Becoming a Medical Assistant
Robin Van Til, medical assistant at St. Luke's Mariner Medical Clinic, cares for a patient. 
After 25 years of being a beautician, Robin Van Til was ready for a change. She went back to school to pursue a medical coding degree, but then she heard about the medical assistant (MA) role. "One of my teachers suggested the program to me," she said. "I thought: Well, this might be a good thing for me to do."
This program typically only takes 12 months to complete, but Robin took a year and a half. This allowed her to continue working at the salon full-time and care for her family. The full schedule was a challenge, but she pushed through, completed her internship and was able to quickly find a position.
Seven years into her career as an MA and currently working at St. Luke's Mariner Medical Clinic, Robin has no regrets. "This is the best move I've ever made," she said. Robin encourages others to consider the role as well. "You've got to be motivated. There's not a lot of sitting around," Robin explained. "But I think a lot of people could do it, and we need more medical assistants."
Supporting providers, caring for patients
Also known as a clinical assistant, many MAs are paired with a specific physician, nurse practitioner or physician assistant in a clinical setting, and work closely with patients.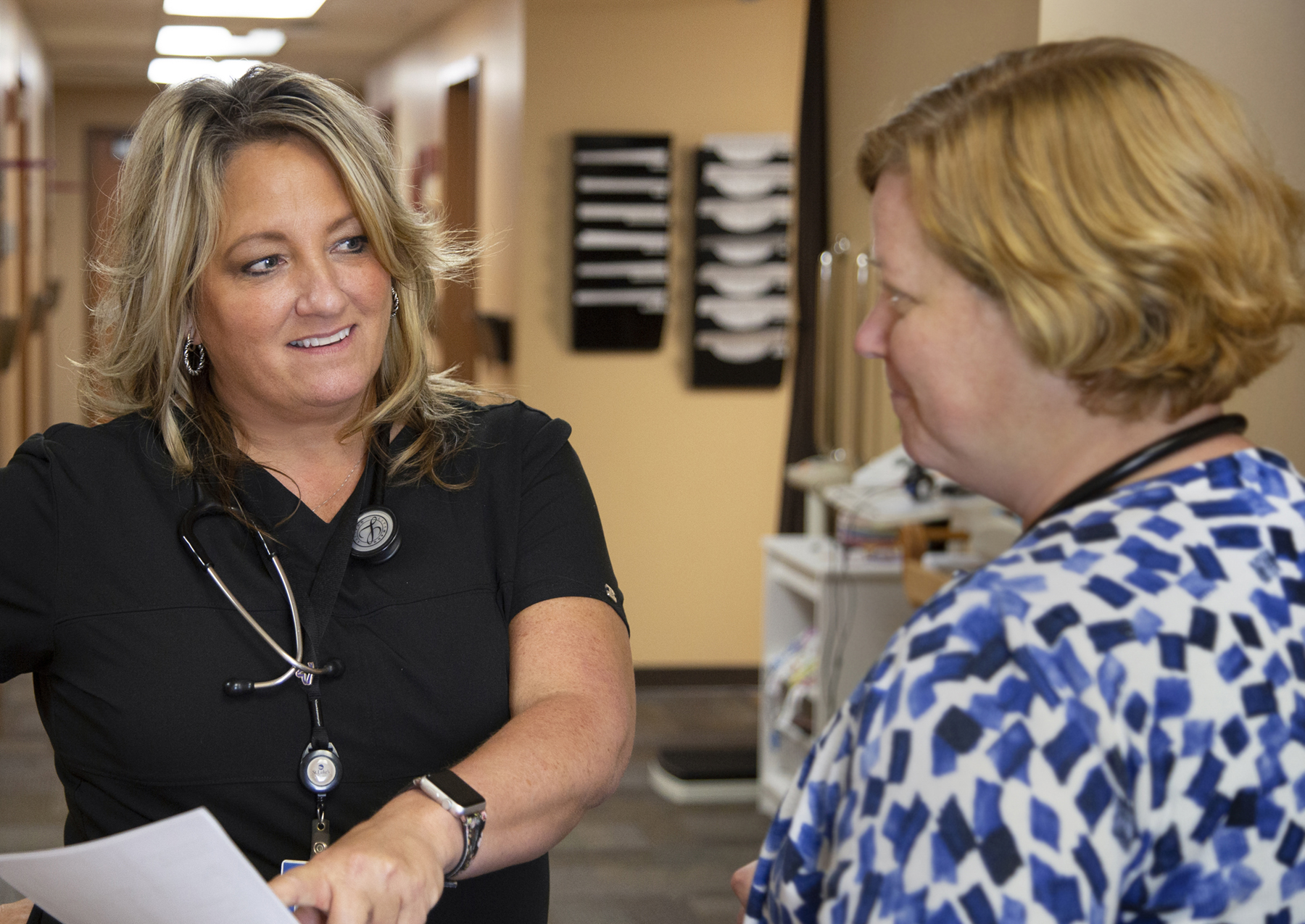 "An MA is typically the one who calls you from the waiting room at the doctor's office," Robin said. "He or she will take the patient's weight, height, blood pressure and temperature." An MA will also briefly discuss the patient's medical history with them before they see the doctor.
However, rooming patients isn't all these medical professionals do. MAs also help with performing procedures, administrating medications and vaccines, documenting the patient's medical record, and coordinating additional services such as lab work or x-rays. "We do a lot," Robin said. Between triaging patients and filling out paperwork, there's not much downtime, but she sees it as well worth the effort. "It's really rewarding work," she said.
The biggest reward for Robin is being able to care for people. Since MAs work so closely with patients, Robin has been able to build relationships and create special bonds over the years. "The patients really make it worth while," she explained.
An attainable, in-demand role
To be employed as an MA at St. Luke's, applicants are required to have an MA certification or license within 120 days of hire. Both Wisconsin Indianhead Technical College (WITC) and Lake Superior College (LSC) offer a medical assistant program locally. Each program can be completed in 12 to 15 months.
However, other certifications and licenses qualify applicants for the position at St. Luke's as well. This includes licensed practical nurses (LPN), registered nurses (RN), emergency medical technicians (EMT), paramedics and radiologic technologists (RT).
This was especially good news for Jennifer Kromrey, now an MA at St. Luke's Medical Arts Clinic. She had received her EMT Basic certification and license to fulfill requirements and explore emergency medicine while completing her bachelor's degrees. "I don't think many EMT's know they can get a job as an MA at St. Luke's," she said. "I still volunteer for an ambulance service, but this is another great way to put the license to use and gain experience in the clinical setting."
According to the Bureau of Labor Statistic's Occupational Outlook Handbook, there is high demand for MAs and it's expected to see dramatic growth in the future. Employment is projected to grow 23% from 2018 to 2028. This is much faster than the average growth rate for all occupations which is only 5%.
MAs at St. Luke's
As far as where to seek out employment, Kieona Wilford, recent graduate of LSC's program and now an MA at St. Luke's Internal Medicine Associates, recommends St. Luke's. "I definitely picked St. Luke's on purpose. I've had nothing but good experiences," said Kieona. "I love working here. It's great. It's one of the best jobs I've had so far, and I've had a few."
Robin also recommends working at St. Luke's. "The people here make it a wonderful place," she said.
Starting pay for an MA at St. Luke's is over $17 per hour for new graduates, and more for those with experience. However, the hourly wage is only part of your compensation package. St. Luke's has a generous medical, dental, retirement and paid time off benefit plan offered to all employees hired into a position that is 0.6 FTE and above.
To learn more about the MA role, contact St. Luke's Recruiting at 218.249.5595 or recruiting@slhduluth.com, and visit slhduluth.com/MedicalAssistant.

This article was published in the Woman Today magazine Nov-Dec 2020 issue.
Share This Article: