St. Luke's Foundation
Commit to making a difference.
Your financial donation can have a direct and lasting impact on your family, friends and neighbors. Discover the many other forms of giving that can help support St. Luke's programs and services.
St. Luke's Foundation, a 501(c)3 organization, provides innovative support to advance compassionate patient care, research and community health.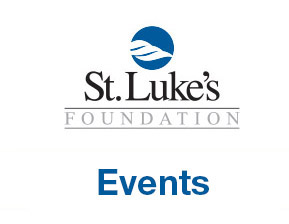 Each year St. Luke's Foundation hosts two signature events: the Benefit Tournament and Circle of Light gala. These special gatherings allow St. Luke's Foundation to fulfill its mission of advancing patient care, health education, and clinical research.
Amazon Smile
Are you an Amazon shopper? Using AmazonSmile, you can find all of the same products, prices and shopping features as the main Amazon.com, but St. Luke's Foundation will benefit from your purchases. First, login to Smile.Amazon.com, select St. Luke's Foundation as your designated charity and shop from there.
Tax ID # 41-1448118