Same Great Care, Brand New Clinic
Gorgeous views of Lake Superior. Larger exam rooms. A clean, modern design. Welcome to St. Luke's Obstetrics & Gynecology Associates brand new clinic in St. Luke's Lakeview Building.
 
St. Luke's opens an expanded Obstetrics & Gynecology Associates Clinic
Women of all ages – from teens to seniors – value privacy and comfort for their healthcare.
These are two key values that were taken to heart when St. Luke's new Obstetrics & Gynecology Associates Clinic was designed. This clinic opened in St. Luke's Lakeview Building in February.
"We are so excited about this," said Dr. Aimee VanStraaten, a St. Luke's OB-GYN. "We have been outgrowing our current space for quite a while. Our previous clinic was designed for three or four physicians and one nurse practitioner. We now have seven physicians and a large number of nurse practitioners, physician assistants and midwives."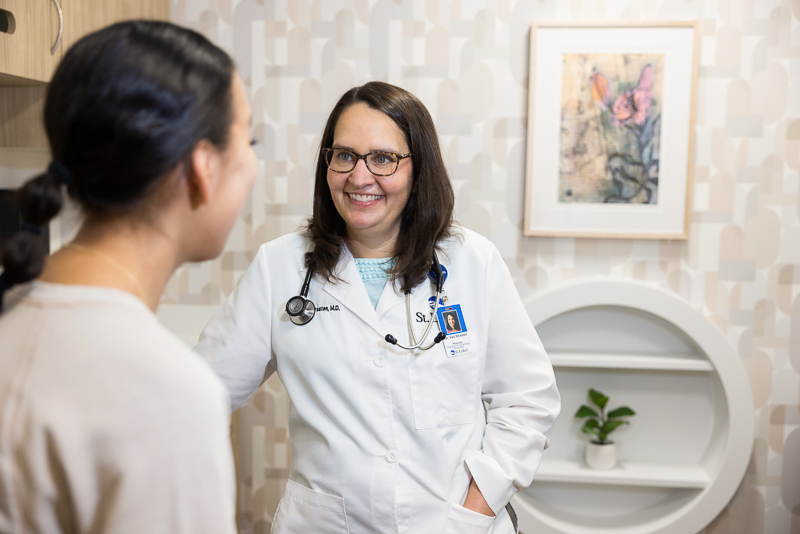 Dr. Aimee VanStraaten chats with a patient in one of the new, larger exam rooms.
The clinic has expanded from 15 to 24 exam rooms (that are much larger), more procedure rooms, and a big, beautiful waiting area with a great view of Lake Superior– plus many amenities to provide a relaxing experience for patients.
More Space, More Light
St. Luke's Director of Women's & Children's Services Lori Swanson calls the new clinic, "Timeless yet modern, with larger spaces and a calming color palette." She knows that patients are going to love it.
The clinic's art features distinct local images, created by Duluth artist and illustrator Jordan Sundburg of Tin Cup Design.
For patients with young children, hustling to an OB-GYN appointment can feel like an Olympic event, maneuvering strollers and corralling children in small exam rooms. They will find the new clinic designed to fit their family's needs, including:
Designated stroller parking
Larger exam rooms for young entourages
Private breastfeeding rooms
Private area for fertility care
And bathrooms – lots of bathrooms
Scheduling and labs are now conducted in private areas. Even the scales are recessed in more private areas. "That's a big deal," said Swanson.
Plus, the new space is flooded with that valuable natural resource – light. "Light is so important – it's so good for all of us," said Dr. VanStraaten.
Collaborative Design to Best Serve the Community
The clinic's design and construction were collaborative and patient-centered from the very start.
To begin, providers and staff gave wish lists for what would best serve the community's needs. The input was based on feedback from patients, as well as their own experience working in the previous clinic. "It was like Christmas. We knew what our patients were asking for and it was so rewarding to be able to incorporate those wishes into the clinic's design," said Dr. VanStraaten.
"Our providers are so invested in caring for women and advocating for women – they'll go the extra step to do it," said Swanson. That means everything from providing the best procedures and education, to making sure new construction represents the patients' needs and comfort.
The new clinic is part of St. Luke's ongoing Health Forward Initiative, focused on redeveloping St. Luke's campus in a thoughtful, economical and sustainable way.
In 2015, St. Luke's Birthing Center was fully renovated. This spring will see the completed remodel of the Specialized Care Nursery. Other renovations coming this year include Building A renovations and a new Northland parking Ramp.
"We focus our work on what is needed next," said Swanson. "We're assessing what our needs are in response to what we see happening in patient care. It's part of what we can do as an independent hospital."
Dr. VanStraaten sees the new clinic as the perfect space to feature the OB-GYN team's dedication to patients, providing the full spectrum of obstetrics and gynecology. "It's so rewarding to help a patient through infertility, miscarriage, or a difficult, complicated pregnancy. And I love seeing my surgery patients back for their post-op and hearing how the surgery has changed their lives for the better," she said.
The whole team of providers is thrilled with the new clinic. "It's such a cheerful, welcoming place," Dr. VanStraaten added. "Everybody should come check it out."
To see the space or schedule an appointment, visit slhduluth.com/NewOBGYNClinic.
This article was originally featured on pages 32 & 33 in the April 2023 issue of The Woman Today magazine.