St. Luke's Seeks Input on Next Phase of Campus Redevelopment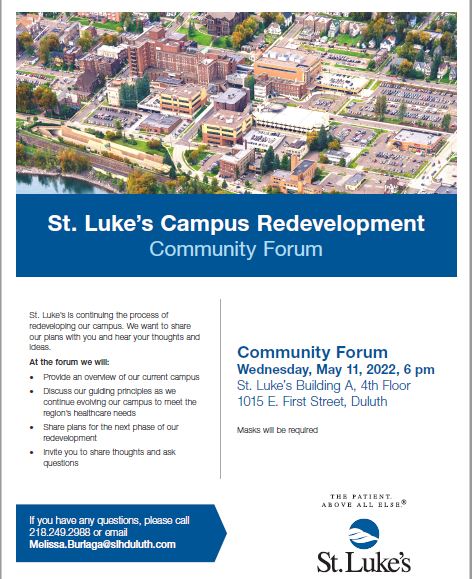 St. Luke's is looking to the future and inviting the public to learn more about the next phase of its campus redevelopment.
On Wednesday, May 11 at 6 pm, St. Luke's will host a campus redevelopment community forum. At the event, St. Luke's leaders will share plans for Phase II of its Health Forward Initiative campus redevelopment plan and then facilitate a discussion about the plans.
"We're excited to share what's next for St. Luke's with our community," St. Luke's Vice President of Support Services Mike Boeselager said. "We also want our neighbors and the community to be involved and hear about what's important to them."
During the forum St. Luke's will provide an overview of the current campus, discuss guiding principles as the campus evolves to meet the region's healthcare needs, share plans for the next phase of redevelopment, and invite attendees to share thoughts and ask questions.
Share This Article: