St. Luke's Presents Lung Cancer Screening: It Could Save Your Life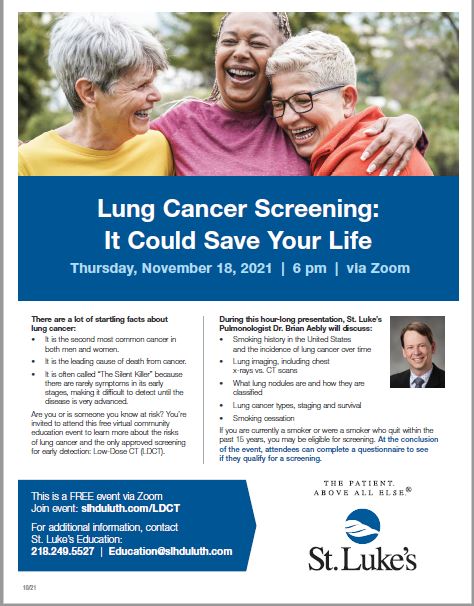 Thursday, November 18, 2021
Free - via Zoom
6 pm
Duluth, Minn. – November is Lung Cancer Awareness Month, and St. Luke's Pulmonologist Dr. Brian Aebly will share findings during an hour-long presentation on a simple test that can help detect lung cancer in its early stages.
There are a lot of startling facts about lung cancer. It is the second most common cancer in both men and women. It is the leading cause of death from cancer. It is often called the "silent killer" because there are rarely symptoms in its early stages, making it difficult to detect until the disease is very advanced.
If you or someone you know is at risk, you are invited to attend this free, virtual community education event to learn more about the risks of lung cancer and the only approved screening for early detection: Low-Dose CT (LDCT).
During the presentation on Thursday, November 18, Dr. Aebly will discuss
Smoking history in the United States and the incidence of lung cancer over time
Lung imaging, including chest x-rays vs. CT scans
What lung nodules are and how they are classified
Lung cancer types, staging and survival
Smoking cessation – if you are a smoker or were a smoker who quit within the past 15 years, you may be eligible for screening
At the end of the event, attendees can complete a questionnaire to see if they qualify for a screening. To register, visit https://slhduluth.com/LDCT.