St. Luke's Hosts 2nd Annual Time Critical Conference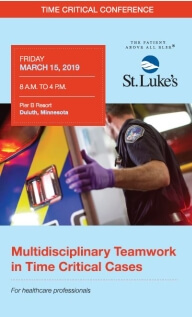 WHEN: Friday, March 15
WHERE: Pier B Resort, 800 West Railroad Street, Duluth
TIME: 8 a.m. – 4 p.m.
WHO: Cases and Lead Presenters:
Multidisciplinary Care of Complex Extremity Trauma –
Michael Stellmaker, MD, FACS, St. Luke's Chief of Trauma
Subarachnoid Hemorrhage – Jonathon Shultz, MD, St. Luke's Regional Trauma Center
When Seconds Count: Pre-hospital Critical Care Decision Making – Christopher Delp, MD, St. Luke's Regional Trauma Center
Cardiogenic Shock in the Setting of NSCLC – Scott Mikesell, DO, FACC, FSCAI, FSVM, St. Luke's Cardiology Associates
WHAT: St. Luke's is proud to host its second annual Time Critical Conference: Multidisciplinary Teamwork in Time Critical Cases. This case-based conference is designed to provide a diverse audience of health care providers with a comprehensive update on existing and new treatment guidelines for management of patients with a time critical illness or injury.
Case presentations will focus on common and uncommon cardiac and traumatic emergencies, where every second counts. This engaging conference will also include panel discussions that will highlight the importance of multi-disciplinary teamwork and communication throughout systems of care.
For more information visit www.slhduluth.com/TimeCritical