St. Luke's Names Kevin Nokels, MBA, FACHE, New President & CEO
St. Luke's Board of Directors has named Kevin Nokels (Nuk-culls), MBA, FACHE, as the health care system's new president and chief executive officer.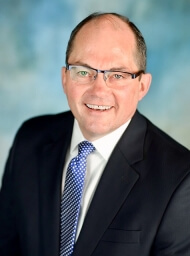 Nokels currently serves as President of CHI Health Creighton University Medical Center – Bergan Mercy in Omaha, Nebraska. A native of Long Prairie, Minnesota, he succeeds John Strange who retired in February after nearly 23 years as president and CEO.
"After an extensive search, the board is fortunate to have found someone as outstanding as Kevin to lead St. Luke's," said Jeff Borling, St. Luke's Board Chair and Chair of St. Luke's CEO Search Committee. "Kevin has the vision and leadership qualities that will allow St. Luke's to continue thriving. He has also demonstrated a commitment in his many years of experience to ensuring that care is patient centered, which is certainly at the core of everything St. Luke's does."
Nokels' selection caps a search process facilitated by Cejka Executive Search, one of the nation's leading health care executive search firms. With more than 100 initial prospects, the field was narrowed to a group of seven people who interviewed with the board's search committee. Then three finalists were brought to St. Luke's campus to interview with key stakeholders, including St. Luke's leadership, physicians and employees.
"I had a phenomenal experience when I met with everyone at St. Luke's. I was really impressed by the strong passion employees have for their work and their enthusiasm for the future," Nokels said. "I'm looking forward to having the chance to work with a great medical staff and team. I see this as an incredible opportunity to make health care even better in the region."
Nokels' wife, Dawn, is a physician assistant who is also originally from Long Prairie. They are both looking forward to moving to Duluth. They are the proud parents of two adult daughters, Addison and Lydia. Their connection to the area also includes a love of the Boundary Waters.
"Beyond loving this region, what drew me to St. Luke's is that I truly saw the mission of the patient above all else embodied in those I met," Nokels said. "St. Luke's offers great value by providing care of the highest quality, in a safe environment, and meeting and exceeding patients' expectations. I want to help continue growing that in the ever-changing and ever-challenging world of health care."
"It is because of the high-caliber service St. Luke's offers that we were able to attract someone as extraordinary as Kevin," Borling said. "There were many people involved in the process who deserve a lot of praise for making this transitional period a strong one. I especially want to thank St. Luke's Chief Financial Officer Eric Lohn who is currently serving as interim president and CEO."
Nokels will officially begin as St. Luke's president and CEO on Monday, August 12.
Share This Article: