Be Ahead of the Game: St. Luke's is Offering School Sports Physicals
St. Luke's is helping student athletes gear up for the fall season with sports physicals at its conveniently located primary care clinics throughout the region.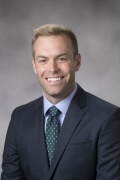 Sports physicals are important because they help determine whether it's safe for students to participate in sports. Sports physicals have two parts: one part covers a person's medical history, and the other part consists of a physical exam. "The goal of having a sports physical is to identify any potential issues that the student athlete may have so proper treatment can be given," Dr. Carl Rasmussen St. Luke's Mount Royal Medical Clinic family medicine physician said. "By providing sports physicals we can help students play the sports they love and encourage them to lead healthy, active lives."
To make it easy and convenient for parents to schedule sports physicals, the St. Luke's clinics listed below are taking appointments now.
Minnesota
Bay Area Medical Clinic, Silver Bay, 218.226.4431
Denfeld Medical Clinic, Duluth, 218.249.6800
Hibbing Family Medical Clinic, Hibbing, 218.362.7100
Lake View Medical Clinic, Two Harbors, 218.834.7700
Laurentian Medical Clinic, Mountain Iron, 218.748.7480
Lester River Medical Clinic, Duluth, 218.249.4500
Miller Creek Medical Clinic, Hermantown, 218.249.4600
Mount Royal Medical Clinic, Duluth, 218.249.8800
P.S. Rudie Medical Clinic, Duluth, 218.249.4300
St. Luke's Medical Arts Clinic, Duluth, 218.249.3500
St. Luke's Pediatric Associates, Duluth, 218.249.7870
Wisconsin
Chequamegon Clinic, Ashland, 715.685.6600
Mariner Medical Clinic, Superior, 715.395.3900