St. Luke's Care from Anywhere
eCare connects you to St. Luke's providers online for help with minor medical issues.
During the busy summer months, between travel plans and seasonal activities, the last thing most people want to do is sit in the waiting room at a doctor's office. That's why St. Luke's offers eCare, an online clinic that helps diagnose and treat minor health concerns.
One mom's experience with eCare
"I'm kind of old-school and I'd always prefer to see a doctor in person," said Amy Benson, local mother of three and lifelong patient at St. Luke's. "But after I heard about St. Luke's eCare, I decided to try it."
When Amy's daughter started experiencing common cold symptoms, Amy began to worry that it was the beginning of a sinus infection.
Not wanting to make a visit to urgent care, Amy logged in to slhduluth.com/eCare and completed a brief survey about her daughter's health history and answered a few questions about the current symptoms she was experiencing. She submitted her request and waited for a provider to respond.
"All eCare visits are answered by a St. Luke's Q Care or Urgent Care provider," explained Camille Ingle, PA-C, at St. Luke's Q Care. "On any given day, there are usually about 5 providers monitoring eCare visits. When a request comes in, we all get a notification."
A response from a St. Luke's provider is guaranteed within one hour of the eCare request every day of the week between 7 a.m. and 8 p.m. If it takes longer than that, the patient will not be charged for the visit.
Amy received a response from a provider within 10 minutes. "I didn't even have to leave my house," she said. "It turned out that the symptoms weren't anything serious. I was really relieved."
If medication is needed, the prescription can be sent electronically to the patient's pharmacy. Each virtual visit costs only $30 and is payable by credit, debit or health savings card. This online service is available to anyone with internet access – even to those who are not current St. Luke's patients.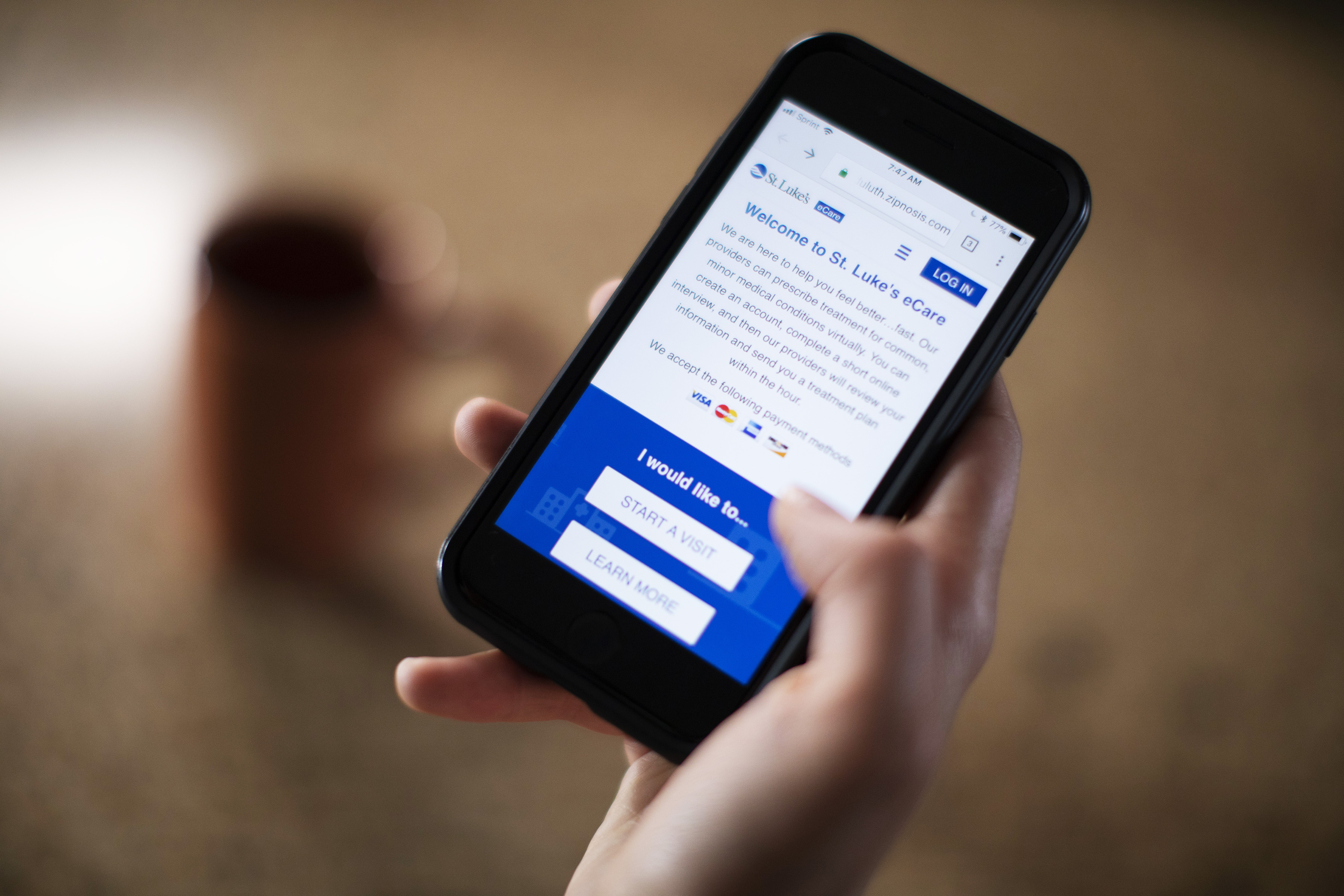 When to use eCare
While eCare is not meant to take the place of a primary care provider, urgent care or the emergency room, it serves as a convenient way to access medical help for minor needs.
St. Luke's eCare can address conditions like seasonal allergies, cold and flu symptoms, pink eye, female urinary tract infections and minor skin concerns including athlete's foot, rashes or tick bites.
"It's a great tool to have during the summer months when people are travelling out of town or extra busy," explained Ingle. "It's also helpful to those who are more homebound."
Any medical issues that require a physical exam, tests or x-rays must be done in person. If an eCare user can't be helped online, they are referred to a higher level of care and not charged for their e-visit.
In emergency situations, patients still need to call 911 or go to an emergency room.
St. Luke's cares for our community
"The fact that St. Luke's offers services like eCare shows that we're innovative and keeping up with the needs of our community," said Ingle. "It's just one more thing we do to provide access to great medical care."
Amy is grateful that St. Luke's offers this service and plans to continue using it. "I definitely recommend it and I would use it again," said Amy. "It's a good thing to have in my back pocket – kind of like I can take a St. Luke's doctor with me wherever we go!"
To learn more about St. Luke's eCare or to use this service, visit slhduluth.com/eCare. In addition to eCare, St. Luke's offers many other points of access to medical care including Primary Care, Q Care, Urgent Care and Emergency Care. To learn more about what can be treated at each option, visit slhduluth.com/WhereToGo.
This article was published in Moms and Dads Today magazine, July-August 2019 issue.