St. Luke's Hosts Community Well-being Series: Surgical Advances in the Big Three Ophthalmic Treatment Options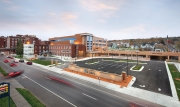 WHEN: Tuesday, May 15
WHERE: St. Luke's Miller Creek Medical Clinic, 4190 Loberg Avenue, Hermantown, MN
TIME: 5-6 p.m.
WHO: Dr. Charlie Ahrens, St. Luke's Ophthalmologist
Dr. Jordan Thompson, St. Luke's Ophthalmologist
WHAT: St. Luke's is hosting the community well-being series: Surgical Advances in the Big Three Ophthalmic Treatment Options. The event will feature a discussion about modern advances in ophthalmic surgery and procedures. From cataracts to glaucoma, there are a number of procedures and treatment options for patients to choose from.
During this educational presentation, Dr. Charlie Ahrens and Dr. Jordan Thompson will provide information and discuss each of the options currently offered through St. Luke's and how they can help patients continue to live a healthy lifestyle.
Share This Article: