St. Luke's President/CEO John Strange Announces His Retirement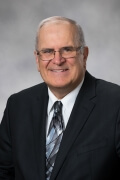 St. Luke's President/CEO John Strange has announced he will be retiring in July of 2019.
Strange joined St. Luke's in 1992 as Chief Financial Officer and Vice President of Finance after 14 years at Memorial Hospital in Burlington, Wisconsin, where he left the position of Executive Vice President.
Four years into his position at St. Luke's, Strange was asked to step in as interim President and CEO. He served in that capacity for one year before being named to the position permanently. Under his leadership, St. Luke's has seen incredible growth – measured by the number of employees, the number of patients cared for, revenue, service offerings and more.
Strange emphasizes that during this next year, operations will continue as normal and that St. Luke's will continue its pattern of growth and commitment to providing quality care.
St. Luke's Board of Directors has formed a transition team to guide the search for St. Luke's next leader. Board Chair Brian Murphy says he and John will work closely to ensure a smooth transition. A national search for a new President/CEO will begin immediately.