Proctor Public Schools & St. Luke's Announce Naming Rights Agreement for New Sports & Event Center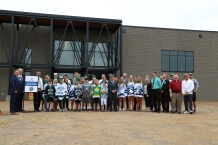 Proctor Publics Schools is teaming up with St. Luke's to name the school's new sports and event center in a 10-year, $300,000 agreement. In addition, St. Luke's will be providing Proctor Public Schools with athletic training to help keep student athletes injury-free and overseeing the fitness center to foster health and wellness in the community overall.
St. Luke's Proctor Sports & Event Center is a 44,000 square-foot facility that houses an ice rink with seating for 1,200, plus standing room for 500 more people, a walking track and a community room for gatherings of up to 100 people. Located at 704 Kirkus Street, the new arena will be home to the Proctor Rails boys' hockey team, the combined Proctor/Hermantown Mirage girls' hockey team and the Proctor Amateur Hockey Association, and will host community events.
"We're proud to partner with Proctor Public Schools. Proctor is a great community with incredibly strong academics and has a great emphasis on healthy activity," St. Luke's President and CEO John Strange said. "The district and community have made impressive investments in youth sports the past few years, and the St. Luke's Proctor Sports & Event Center is the latest example."
Proctor's Superintendent of Schools John Engelking added, "We couldn't be more excited about this partnership. It's a great opportunity to help promote health in our region. It's also an exciting time for Proctor schools. We can't wait to offer our community this great gathering place for sports and events."
Proctor Public Schools will celebrate the opening of the new St. Luke's Proctor Sports & Event Center this September.