St. Luke's Celebrates Becoming a Mission: Lifeline (STEMI) Heart Attack Receiving Center & Earning Gold Level Recognitions for NSTEMI & STEMI Care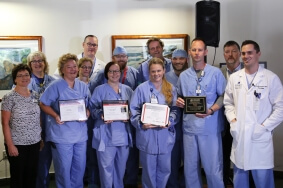 St. Luke's has earned the distinction of becoming a STEMI or Heart Attack Receiving Center from the American Heart Association's (AHA) Mission: Lifeline STEMI Heart Attack Accreditation program, and earning gold level recognitions for being a STEMI and NSTEMI Receiving Center. To recognize these incredible achievements, a celebration was held that included a ceremony and ribbon cutting.
In an effort to help save more lives and to become a Heart Attack Receiving Center, St. Luke's embarked on a three-year accreditation process. "The timing for treating someone having a heart attack can mean the difference between life and death," St. Luke's Cardiac Services Manager Julie Clark said. "That's why we wanted to be a part of the American Heart Association's Mission: Lifeline® Heart Attack Referring/Receiving Center Accreditation Program. Having this accreditation reassures patients that St. Luke's meets or exceeds quality-of-care measures in acute cardiac medicine."
The program, which was launched in 2011 by the AHA and Society of Cardiovascular Patient Care, recognizes hospitals that quickly and appropriately treat heart attack patients. A hospital that earns a Receiving Center accreditation treats patients who are experiencing the most severe type of heart attack. "Having this recognition shows Northlanders that when moments matter most they can count on us to offer the best care," Dr. Scott Mikesell, a physician with St. Luke's Cardiology Associates, director of St. Luke's Cardiac Cath Lab, and co-chair of Mission: Lifeline® Minnesota said. "This accreditation demonstrates our high-level of expertise and commitment to the quality of patient care because it shows we can meet the most stringent criteria issued by the American Heart Association's Mission: Lifeline program."
The AHA's Mission: Lifeline Heart Attack Receiving Center Accreditation seeks to save lives by closing the gaps that separate heart attack patients from timely access to appropriate treatments. The accreditation can significantly reduce cardiac deaths by educating people on the early heart attack symptoms, reducing time for lifesaving treatment, and increasing the accuracy and effectiveness of treatment. Accredited facilities display the new AHA's Mission: Lifeline Heart Attack Receiving Center Accreditation to signify the center as one of quality and trust.
Additionally, the AHA recently recognized St. Luke's at Gold Receiving level status for STEMI and NSTEMI care. The recognition signifies another way St. Luke's is committed to guideline adherence and quality improvement for STEMI and NSTEMI patients. Achieving recognition denotes commitment to high-quality systems of care amongst STEMI and NSTEMI Receiving Centers, referring hospitals, 911 EMS agencies and other supporting participants though collaborative efforts. Those efforts include improvement priorities outside the doors of St. Luke's and throughout the community.