St. Luke's Cardiologist Dr. Scott Mikesell to Give Keynote Speech at 2017 MN Stroke & Cardiac Emergencies Conference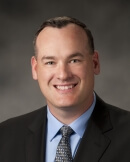 St. Luke's is pleased to announce Cardiologist Dr. Scott Mikesell will be giving three speeches, including the keynote speech on STEMI management, at the 2017 Minnesota Stroke and Cardiac Emergencies Conference.
Dr. Mikesell is the Director of the Cardiac Catheterization Lab at St. Luke's and an adjunct assistant professor at the University of Minnesota Medical School, Duluth Campus. He's board certified in cardiology, interventional cardiology and cardiovascular disease. Dr. Mikesell will be the keynote speaker for the second day of the conference which is designated as Cardiac Emergencies Day. His speech will focus on considerations for PCI vs. Lytic Therapy in STEMI, which is a very serious type of heart attack.
Dr. Mikesell's second speech that day, "Shock Talk," will be about cardiogenic shock and hemodynamic support in the STEMI patient. It will focus on approaches and considerations for EMS, air and hospital providers. His final talk for the day will be an American Heart Association Get With The Guidelines Awards/Designation/Certification panel discussion on ethics in the care of cardiovascular emergencies.
St. Luke's Cardiovascular Services Coordinator Stan Sadenwasser will also be speaking at the conference. He is one of two speakers focusing on improving the transitions of care for stroke patients from hospital to home.
The conference is Thursday, June 15 and Friday, June 16 in Bloomington, Minnesota. To learn more about the conference visit http://mdhstrokecardiacconference.com/.