Chemo Brain: Understanding the Effects of Treatment on Your Body and Mind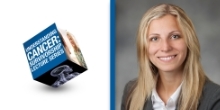 St. Luke's Understanding Cancer Survivorship Lecture Series
WHEN: Tuesday, June 13, 2017
WHERE: Marshall School Auditorium, 1215 Rice Lake Road, Duluth
TIME: 5:30-7 p.m., with a light dinner and refreshments served at 4:30 p.m.
WHAT: St. Luke's Regional Cancer Center is pleased to host "Chemo Brain: Understanding the Effects of Treatment on Your Body and Mind," as part of the Understanding Cancer Survivorship Lecture Series.
St. Luke's oncologist and hematologist Dr. Anna Perelshteyn and UMD Professor of Biomedical Sciences Dr. Lester Drewes will discuss the sometimes vague and distressing mental changes cancer patients experience. They will provide in-depth information on the blood brain barrier and important tools for managing chemo brain.
The event is free and open to the community.