St. Luke's Surgeon Dr. Jennifer Witt Earns Credentials to Perform Bariatric Surgery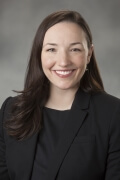 Dr. Jennifer Witt with St. Luke's Surgical Associates has been newly credentialed to perform bariatric surgery.
Dr. Witt can now perform bariatric surgery through St. Luke's Bariatric Surgery Program. The program is an accredited, comprehensive program to help patients overcome weight issues and enjoy improved health and well-being. Medical Director Dr. John Bollins and his staff work closely with patients before and after surgery to prepare for and work through the lifestyle changes needed for a lasting, positive outcome. Bariatric surgical services include sleeve gastrectomy.
Dr. Witt received her medical degree from the University of Colorado in Denver. She completed her residency at the University of Minnesota in Minneapolis and served as chief administrative resident in her final year.
Dr. Witt's general surgery training at the University of Minnesota included time with the high-volume bariatric program. It's a surgery she's now happy to be able to perform. "I am excited to be able to offer surgical options as a powerful tool to patients who are making life changes as they pursue a healthier lifestyle and weight loss," said Dr. Witt.
A referral from a primary care physician isn't required. To learn more about St. Luke's Bariatric Surgery Program visit www.slhduluth.com/bariatricsurgery.