St. Luke's Celebrates New PACU and Sterile Processing Department Renovation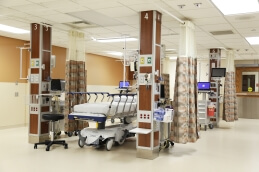 St. Luke's showcased its $4 million renovation of the post anesthesia care unit (PACU) and sterile processing department at an open house on January 7. The brand new PACU, centrally located on the fourth floor of the hospital, is accessible from both the new Surgical & Procedural Care area and the existing operating rooms. "We went from nine beds to 14 beds," explained Dr. Andrea Benson, St. Luke's anesthesiologist.
The 14-bed unit includes three private recovery rooms that can be used as a baby bonding area for new mothers who gave birth via cesarean section. All of the beds maintain a gold standard bed footprint with open access to the patient's head for easy airway management—a must in post anesthesia care. Doors to the new PACU open to surgical patients on January 11.
St. Luke's new sterile processing department features state-of-the-art Getinge sterilization equipment. The department is designed to have one-way flow from decontamination, to preparation and packaging, and finally sterilization. This reduces risk of instrument contamination, ultimately benefitting everyone involved from the sterile processing staff to the patient.
Features of the new sterile processing department include:
Height adjustable sinks
Ergonomic tray-packing stations
Five surgical instrument washer-disinfectors with automated loading technology
Two cart washer-disinfectors
Two steam sterilization units
Equipment tracking program
The height adjustable equipment was specially chosen for optimal employee comfort, keeping with St. Luke's dedication to patient and employee safety. "We are one of the first hospitals in Minnesota to have this equipment," said Tom Kasell, St. Luke's sterile processing department manager. "It really is state-of-the-art."
The surgical instrument washer-disinfectors feature an automated loading system that recognizes which washers are available, which surgical instruments are being loaded, and which cycles to run, leading to a 33% increase in output. The new equipment has also doubled the sterilizer capacity, allowing more instrument trays to be ready for surgery at once.