Pharmacist's Work Shares Knowledge with Students Globally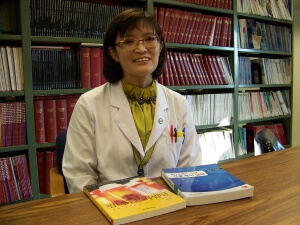 A St. Luke's pharmacist is helping students 6,000 miles away learn from some of the leading minds in the US.
When Sunghee (Sunny) Park, Pharm D, moved to the United States in 2000, she became passionate about the changing role of the pharmacist – from the pharmacist of the past, focused on products and medications, to the modern-day caregiver focused on the patient.
This fall, she saw the results of a year-long project come to fruition when her translation of Pharmaceutical Care Practice: The Clinician's Guide – viewed by some as "the Bible of pharmaceutical care" – was published in her native South Korea.
"I learned a lot and I thought I should share what I learned in school here with the Korean students," said Sunny.
She worked on the translation together with three UMD pharmacy students, often gathering over meals to discuss progress. Other members of the translation team included a student from Seoul National University pharmacy school, and three pharmacy professors from South Korea.
As each member of the team took responsibility for individual chapters, Sunny oversaw the work, bringing the sections together, reviewing and revising translations and compiling lists of synonyms for both popular and technical terms.
She says that the authors – Robert Cipolle, Linda Strand and Peter Morley, all professors at the University of Minnesota College of Pharmacy – were delighted at the suggestion that their textbook be translated into Korean, bringing benefit to pharmacists and pharmacy students one-quarter of the way around the world.
"I hope to open their eyes to the idea that we as pharmacists are not a dispensing-only role; pharmacists can take care of patients individually," said Sunny, who also wrote her own book – Pharm D and Precepting – in Korean based on her experience. "I hope this translation can give a vision of that to the Korean pharmacy school students and pharmacists."