Labor & Delivery
Dedicated to non-interventional labor techniques
Welcoming a little one into the world is a very special experience. St. Luke's Birthing Center is dedicated to supporting non-interventional labor techniques and keeping newborns and moms together as much as possible for all deliveries.
We make it a priority to exceed the highest standards of care and seek the training needed to best serve our families. The Birthing Center itself has two prestigious certificates and our nurses currently have 28 different advanced certifications amongst them. This is well above average and speaks of the commitment we have to our patients.
St. Luke's AfterCare Clinic is also available from delivery forward to provide ongoing help to moms with lactation education and techniques for breastfeeding success.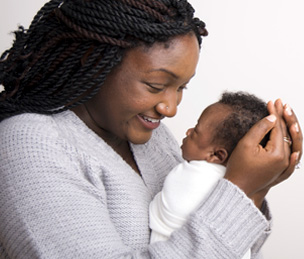 St. Luke's BabySt. Luke's makes each birthing experience as special as it should be. Meet our expert OB providers, learn more about our spa-like Birthing Center and find the guidance you need for your pregnancy journey.StLukesBaby.com
Creating a Unique Birthing Plan for You
Giving birth is a very personal experience. There's a lot to learn about the delivery process and even more to learn about what comes after. Whether this is your first pregnancy or you're adding another little one to your growing family, everything can seem overwhelming at times. At St. Luke's, our team is here to help. From birthing classes to skilled neonatal care providers, we have everything you need to plan a successful birth.
As your delivery date draws closer, you will want to create a birthing plan so that you and your labor and delivery team will be ready. While some women prefer pain medications during labor, others are more inclined to an all-natural approach.
Things to keep in mind when creating a birth plan:
Who do you want with you in the delivery room?
Would you like to work with a midwife?
Do you want pain medications?
Would you want treatments that can speed up the labor process?
What are your feelings about assisted delivering using forceps or vacuum extraction?
Would you like to save or donate the umbilical cord?
Are you planning to breastfeed?
There are pros and cons to any birthing plan. Our team will help you understand how each process works so that you can make an informed decision.
St. Luke's does not require a referral for this service. To see if your insurance company requires one, call the number on your card.

This service is available at these locations.
Looking for a provider?
Find information about provider related to Labor & Delivery services.
Find Your Provider