Labor & Delivery
Your Birth. Your Way. With all the safety of a hospital.
Welcoming a little one into the world is a very special experience. That's why St. Luke's Birthing Center is dedicated to making your priorities our priorities.
What is St. Luke's Birthing Center like?
Our Birthing Center looks and feels more like a high-end hotel than a hospital. The spa-like suites feature all the amenities you'll need to feel at home. This includes modern furnishings, private bathrooms, minifridges, aromatherapy and more.
Will I be able to personalize my birthing experience?
Absolutely! We love working with each mom to provide the birth experience she's always dreamed of. To plan exactly what you want, we encourage each mom to create a birth plan.
What are the benefits of delivering at a hospital?
Delivering at a hospital is the safest choice for you and your baby. This offers you immediate access to a team of expert medical professionals who can address any complications.
For your safety, we make it a priority to exceed the highest standards of care. St. Luke's Birthing Center has several prestigious certifications, including:
In addition, several of our labor and delivery nurses have advanced certifications amongst them.
Does St. Luke's have a neonatal intensive care unit (NICU)?
No, but we do have a specialized care nursery. A NICU can offer care for babies born before 32 weeks, while a specialized care nursery is able to care for babies born at 33 weeks and after. If your baby needs extra care, the specialists in St. Luke's Specialized Care Nursery will be ready.
Is it possible to have a minimal intervention birth at St. Luke's?
Of course. Some may think that giving birth in a hospital means giving up control, but that is not the case at St. Luke's. We offer our moms a lot of options, especially when it comes to dealing with pain in a non-medicated way. That includes:
Labor tubs
Remote telemetry
Nitrous oxide (laughing gas)
Aromatherapy
Birthing stools and balls
Is St. Luke's doula friendly?
We certainly are. If you choose to hire a doula, we are happy to welcome them as part of your labor and delivery team.
Is breastfeeding support offered?
Yes! As a Baby-Friendly Designated facility, breastfeeding is a huge priority for us. That's why we breastfeeding education before baby is born as well as support after birth. One way we support moms is through St. Luke's AfterCare Clinic. This clinic is staffed by certified lactation consultants and is available to moms from delivery forward to provide ongoing help with breastfeeding. In addition, many of our Birthing Center nurses are lactation specialists.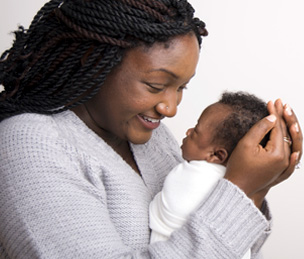 StLukesBaby.comFind the guidance you need for your pregnancy journey.Learn More
St. Luke's Labor & Delivery classes include a tour of the Birthing Center. If you'd like to see the suites sooner, call 218.249.5605.
Looking for a provider?
Find information about provider related to Labor & Delivery services.
Find Your Provider