Building Tomorrow's Nurses
MacKenzie Brummer graduated from The College of St. Scholastica this spring with a top-ranked nursing education and full year of experience as a critical care nurse intern at St. Luke's.
How paid internships at St. Luke's are setting nursing students up for success

When Cloquet-native MacKenzie Brummer donned her cap and gown this spring, she carried with her a lot more than just her wide, generous smile.
She carried a top-ranked nursing education from The College of St. Scholastica. She carried her work in the Honor's Program, earning her the title of Webster Scholar. She carried the support of her family and friends, mentors and teachers. And she carried a full year of experience as a critical care nurse intern at St. Luke's.
"It's been a joy to work with patients on such a deep level," said Brummer. "With critical care, you have days that are emotionally and physically taxing. But that's balanced by some really incredible moments, too. I've always enjoyed working with people, and I want to be that support person for people when they need it most. My internship at St. Luke's made me especially sure that nursing is exactly where I want to be."
 
Invaluable hands-on experience
St. Luke's Nurse Intern Program had been in place for many years as a summer internship. This past year, it was expanded. To provide additional support and training, full year internships are now available for senior year nursing students.
The internship complements the students' education and helps build their confidence.
"We're working side by side with a nurse," said Brummer, "gaining experience so we can feel comfortable doing things on our own. We're not just shadowing, watching someone do their job. We're hands-on, applying the skills we've been learning in the classroom. I could give medications, communicate with patients, analyze results. It was very valuable to practice those skills."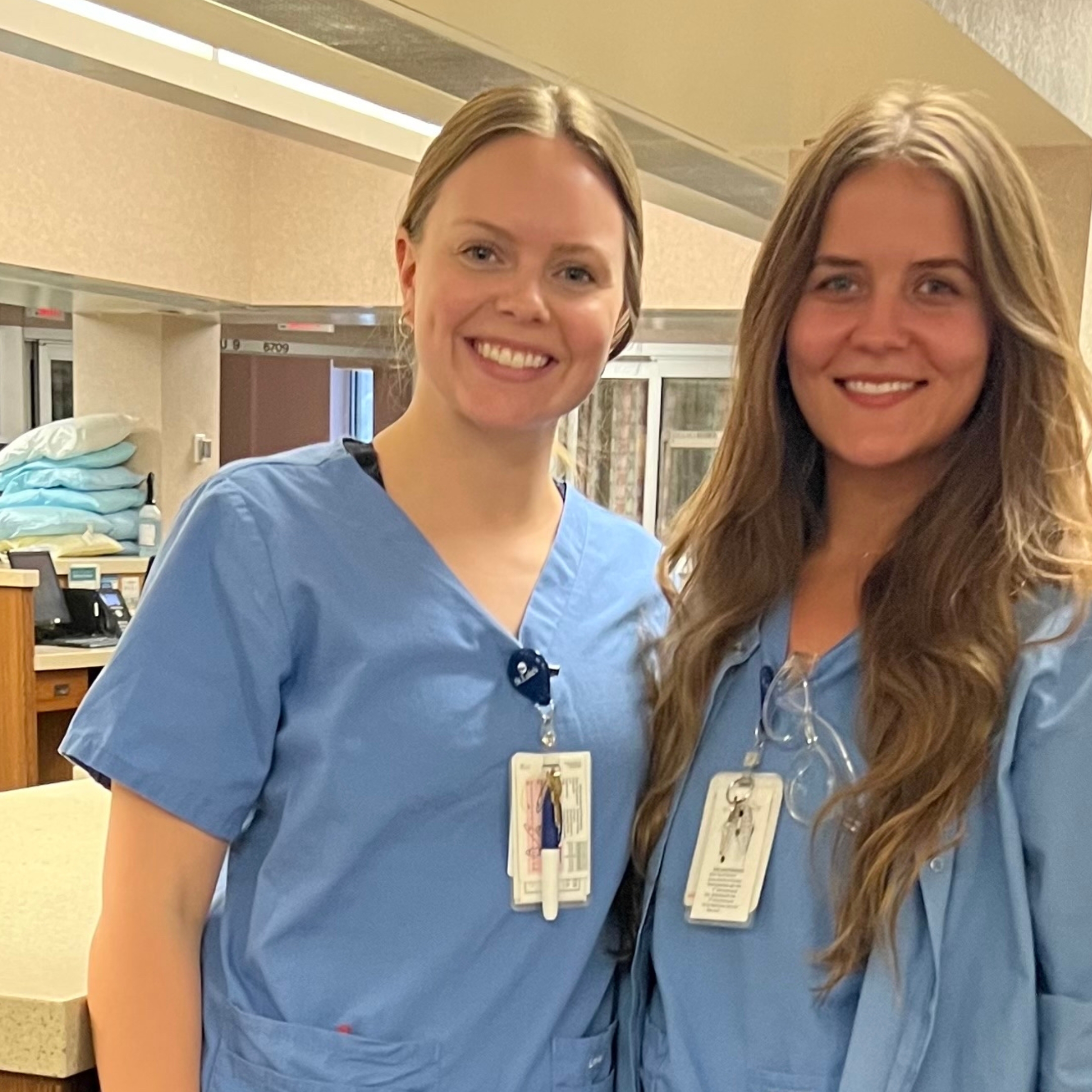 Mackenzie working with Nicole, another intern, in St. Luke's Intensive Care Unit (ICU).
Brummer was one of 12 interns from St. Scholastica and Lake Superior College to complete the inaugural year of the program. This summer, 13 interns began.
Flexible opportunities tailored to students' success
A full range of areas are available where students can gain experience. They include:
Critical Care (Cardiac, Critical Care Float Pool and ICU)
Emergency Department
Med-Surg (Float Pool, Gen Medical, Gen Surg-Ortho, Inpatient Rehab, Neuro and Oncology)
Mental Health
Maternal Child Health
Surgical Services
During the summer, interns work 24 hours per week. When school starts, they are only scheduled for 8 hours every two weeks.
"First priority is their coursework," said Angela Hraban, RN, St. Luke's Education Manager. "So, we're flexible with their schedule. This way, they can be on site and have the chance to apply what they're learning, while still having the time to succeed in their classes."
Internships are structured by assigning each student to an RN preceptor. The preceptor offers valuable insight and guidance as the student gain hands-on experience. The preceptor is also a mentor, along with every other nurse in the unit.
"We typically worked with one preceptor, but the whole unit helped us learn," said Brummer. "If another nurse saw a unique opportunity for me to experience or learn from, they would come and get me to be a part of it, even if it wasn't my patient," said Brummer. "All the nurses were so willing to teach me, answer questions and welcome me into their world. That meant a lot!"
 
Seamless transition to working nurse
Interning at St. Luke's does not require a commitment to work there after graduation. However, if student nurses do commit, they receive an early-hire stipend. This means receiving a monthly payment while still in school.
Brummer's internship was such a good experience that she accepted a position in the ICU. Six others who interned with her also signed contracts. After passing their nursing boards and receiving their licenses, they will begin working as RNs at St. Luke's.

The RNs who worked alongside these students, training and teaching them, look forward to their addition. "MacKenzie and her fellow interns have been a true representation to the success of our internship program," said Hraban. "We're excited to have them join our St. Luke's team and support them in their new roles as RNs."
For more information about St. Luke's Student Nurse Intern Program, visit slhduluth.com/NursingStudent.
This article was originally featured on pages 46 & 47 in the August 2023 issue of The Woman Today magazine.