Close-to-Home Surgical Care
St Luke's Mariner Outpatient Surgery Center serves Superior in Superior
The Blatnik Bridge and the Bong Bridge serve as iconic connectors of the Twin Ports community. But for some, including lifelong Superior residents, venturing across one of these bridges is not on their list of favorite things to do. In some cases, this aversion to bridge-crossing limits their access to much-needed healthcare procedures.
That is why St. Luke's offers residents of Superior and nearby towns an option for excellent surgical care on this side of the bridge.
St. Luke's Mariner Outpatient Surgery Center, located next to the Mariner Business Center and inside St. Luke's Mariner Medical Clinic at 109 N. 28th St. E., is an option for several outpatient surgeries and procedures.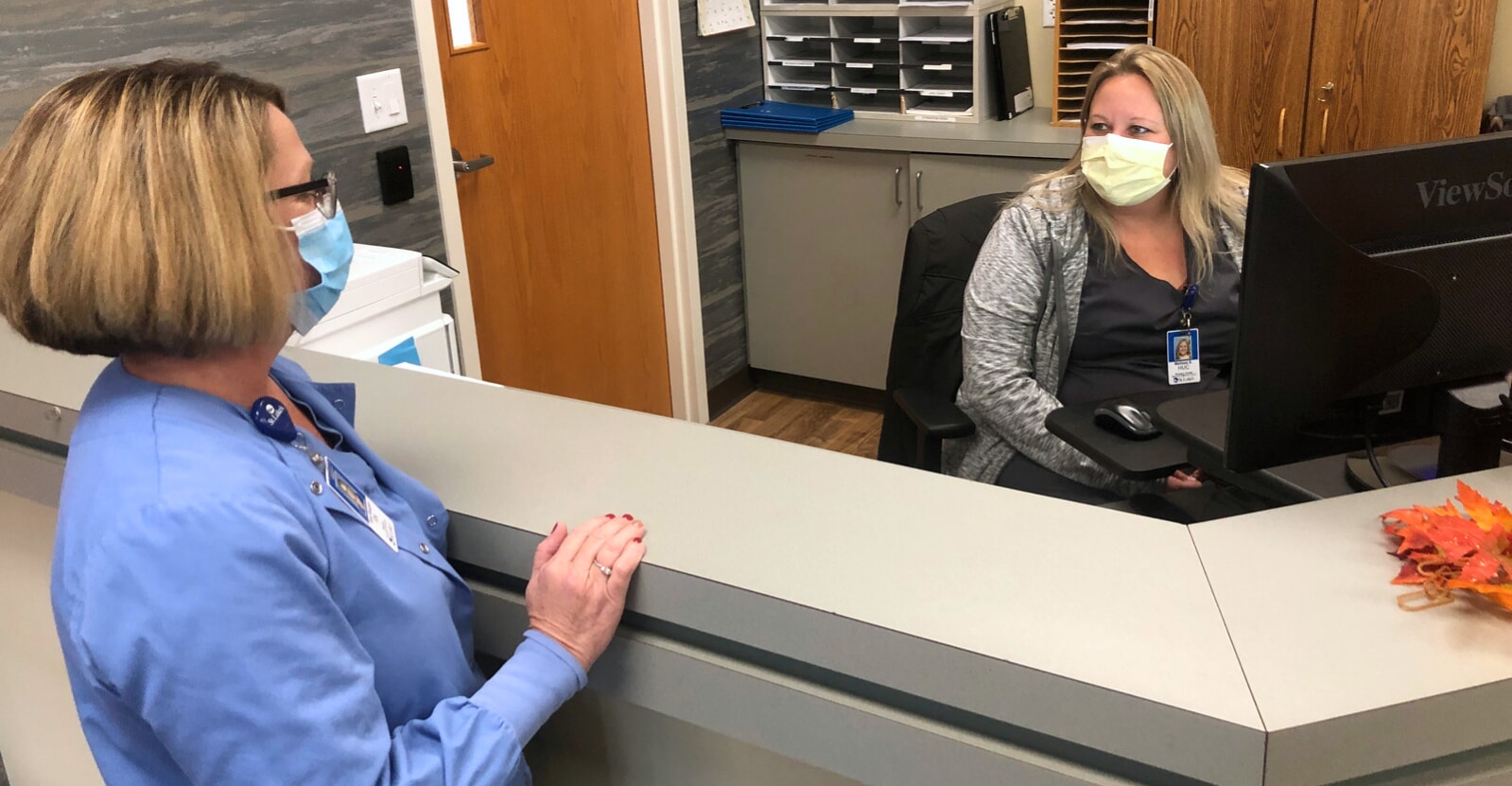 Tara Haugen, Director of Surgical Services, talks with Melissa Saari, Surgery Scheduler, at the front desk of the surgical center.
"At least once a week I hear a patient say, 'I wouldn't have had this procedure done if it wasn't here. I'm afraid of the bridge'," said Tracy Sadenwasser, RN, who works among the team of providers at the Center. "It serves Wisconsin very well."
Endoscopy treatments, like colonoscopies, are among the important procedures performed at the Center. "The ability to get your colonoscopy done in a relaxing environment, close to home, with easy parking, hassle free," are the main reasons Gastroenterologist Dr. Waldo Avello likes the center for his patients. Dr. Joshua Larson also performs gastrointestinal procedures at the location.
Other common outpatient surgeries are also offered at the Center. Orthopedic Surgeon Dr. William Lundberg conducts orthopedic procedures to address challenges like carpal tunnel syndrome and trigger finger. Ophthalmologist Dr. John Yoon performs cataract and other eye surgeries. Since November, Interventional Pain physicians, Dr. Maricela Schnur and Dr. Kathryn Thompson, have offered interventional Pain Procedures
Each day, only one surgeon works at the Center and sees five to 10 patients. The entire staff of St. Luke's Mariner Outpatient Surgery Center is devoted to those patients for that day.
"You get very intimate care here," said Tara Haugen, Director of Surgical Services. "It's quiet. It's a very personalized admission and discharge process. Our patients love that it's a small environment."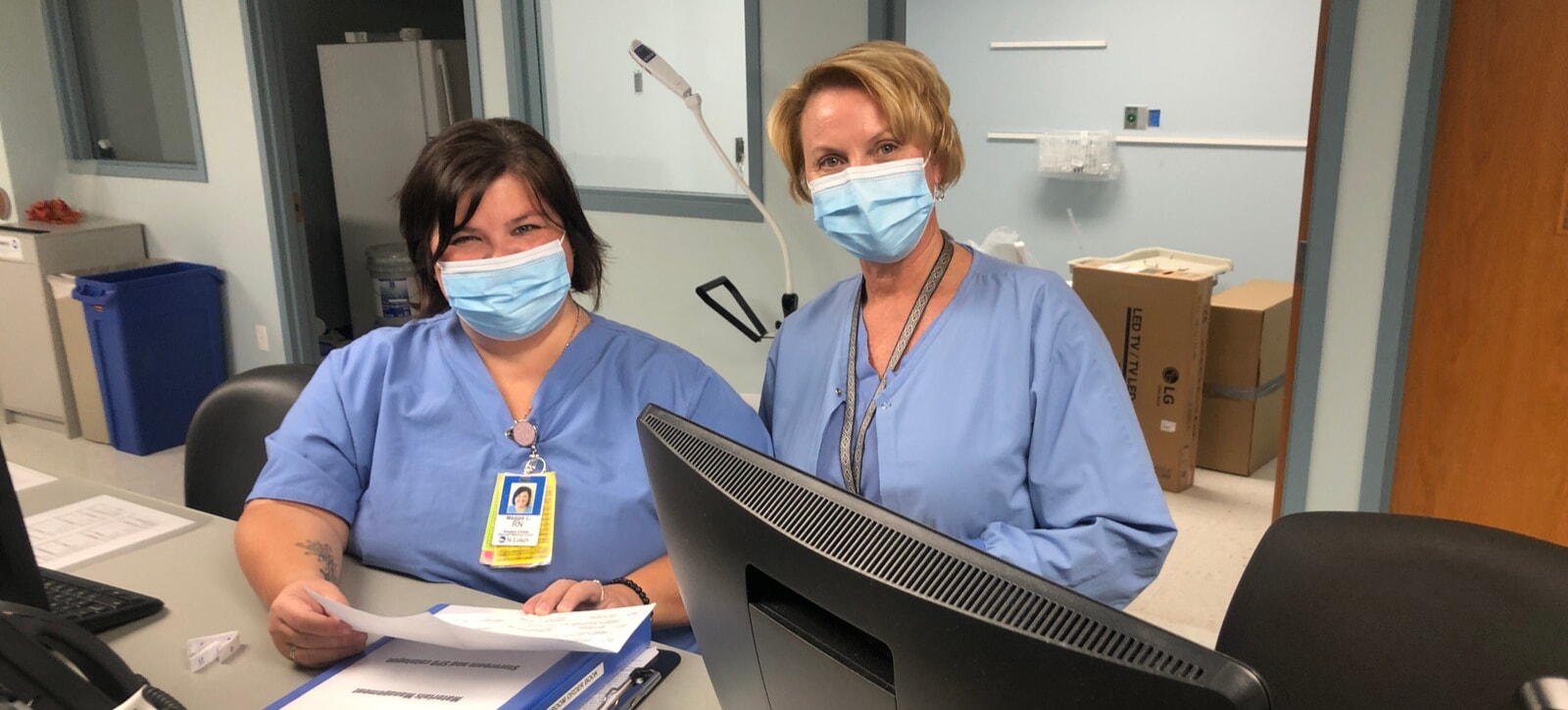 At nurses' station Maggie Ludtke, RN (left) and Lisa Gustafson, RN (right).
The Center opened in the early 2000s and has grown, but still maintains a small, intimate feel, said Haugen. This is vital for the surrounding community, especially as people get older and need more access to healthcare in their own neighborhood.
"As people get older, some struggle to get rides to procedures," said Haugen. "If you talk to people, many would prefer to stay in Superior and receive as much care as they can."
The ease of parking is another big benefit of the Center's location. It's free, close and easy, with only a brief walk right into the Surgery Center itself. Family or friends waiting for their loved one can relax in the comfortable waiting area or the patient's private room, go to a nearby restaurant or run errands. In many cases, they can even go home for a short while. For procedures, the patient is at the Center less than three hours.
The Center is committed to keeping the atmosphere so many patients appreciate. But it also strives to meet the changing needs of the Superior community, which is why it has undergone some important updates in recent months.
"Many would prefer to stay in Superior and receive as much care as they can."
In November, the Center expanded to offer pain management options.
"We saw the need and the opportunity to serve," said Haugen. "It's important for people experiencing chronic pain to receive services right in their own community." Interventional pain management injections are now offered every week by either Dr. Schnur or Dr. Thompson.
"We've looked at the facility and invested into updated equipment and a revitalized look," said Haugen. New equipment and updates to the center allow the physicians to better care for their patients.
In addition, the Center has added a new surgical bed, monitor, vital signs and ultrasound equipment.
"We've looked at the facility and invested in its revitalization with a makeover, equipping it with the technology needed," said Haugen.
Most importantly, the Center values its people. It has invested in staff by hiring additional nursing staff and a surgery technician. Currently, there are two nurses at a time working with patients pre- and post-operative, and 1-2 nurses in the operating room, in addition to other technicians, a scheduler and support staff.
The Center is poised to best care for the Superior community, which is especially vital at this particular time, said Haugen.
"Because so many people put off so many things during the height of the pandemic, people are now wanting to get those things taken care of – cataract surgery, a colonoscopy, or some other minor procedure that wasn't critical during the past few years. People who put off routine care are realizing we are going to live with COVID-19 for a while, and it's time to take care of ourselves."
And at St. Luke's Mariner Surgical Center, she said, "We have physicians here, wanting to take care of you in a nice, quiet, calming environment."
Learn more: slhduluth.com/MarinerSurgeryCenter.
This article was originally featured on pages 60 & 61 in the December 2022/January 2023 issue of Positively Superiormagazine.