Boost Your Confidence with Medical-Grade Skin Care
The team at St. Luke's Rejuvenation Center (from left to right): Kayla Leveille, LMT, Grethell Johnson, RN, Annie Thoreson, LAPE, and Michelle Sturm, LAPE.
 
St. Luke's Rejuvenation Center expands services at new location
For a lot of women, self-care can be difficult to prioritize. Many put themselves last on their "to-do" list, pouring energy and resources into helping others first. Self-care can be seen as excessive or self-indulgent, or at least not as important as more pressing issues of work, family and community.
This is a common discussion for Grethell Johnson, RN, and her clients at St. Luke's Rejuvenation Center, the medical spa that celebrated the opening of its new space just a few months ago. Located in St. Luke's Medical Office Pavilion, 920 East First Street in Duluth, the Center offers a wide range of medical-grade services and products to help people look their best.
Johnson believes that skin care is vital to a person's overall health and self-esteem. "We treat more than just the skin," she said. "We treat confidence and self-esteem. When we take care of ourselves, we feel more confident. We put our best face forward and have that confidence shine through."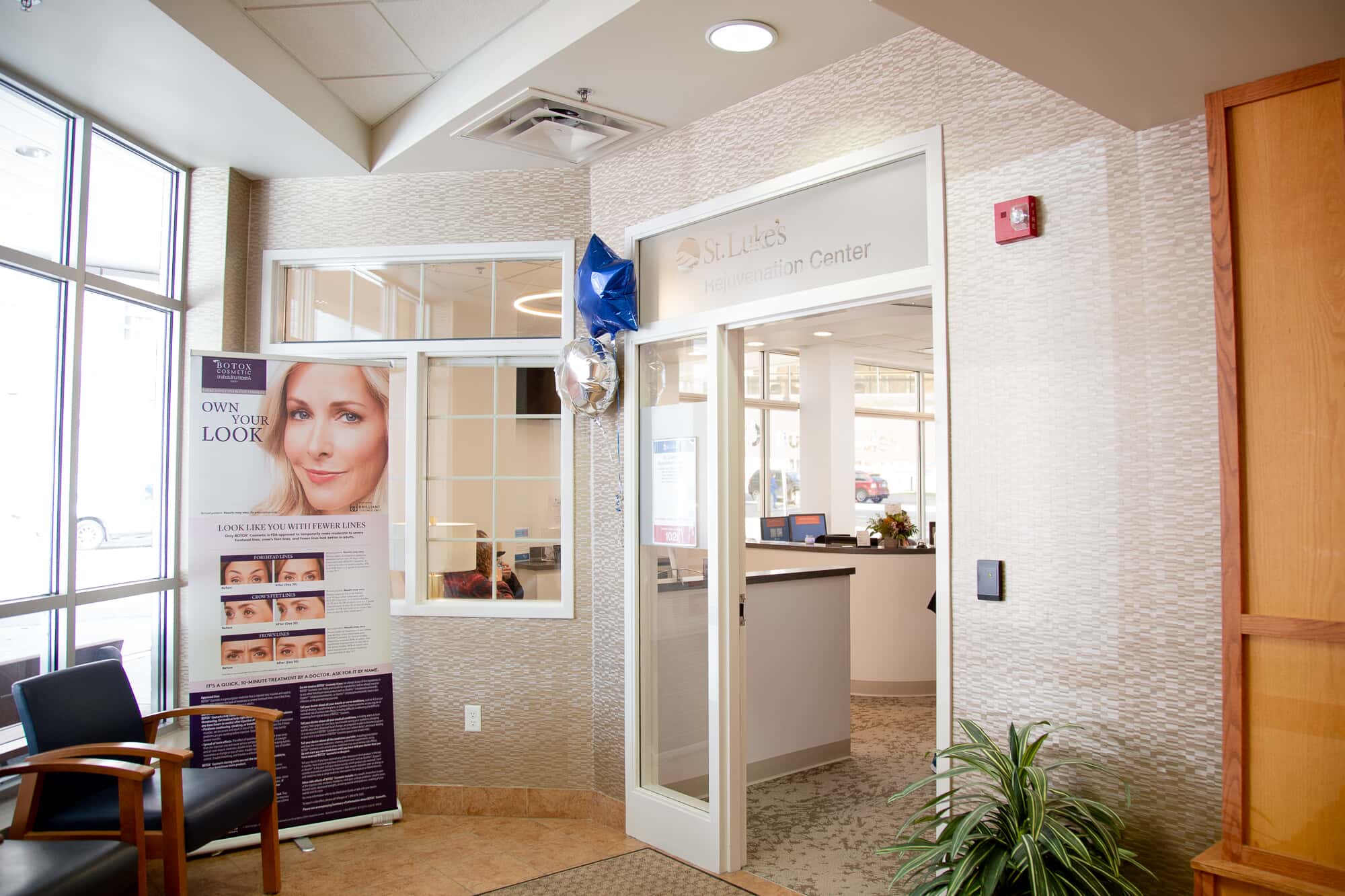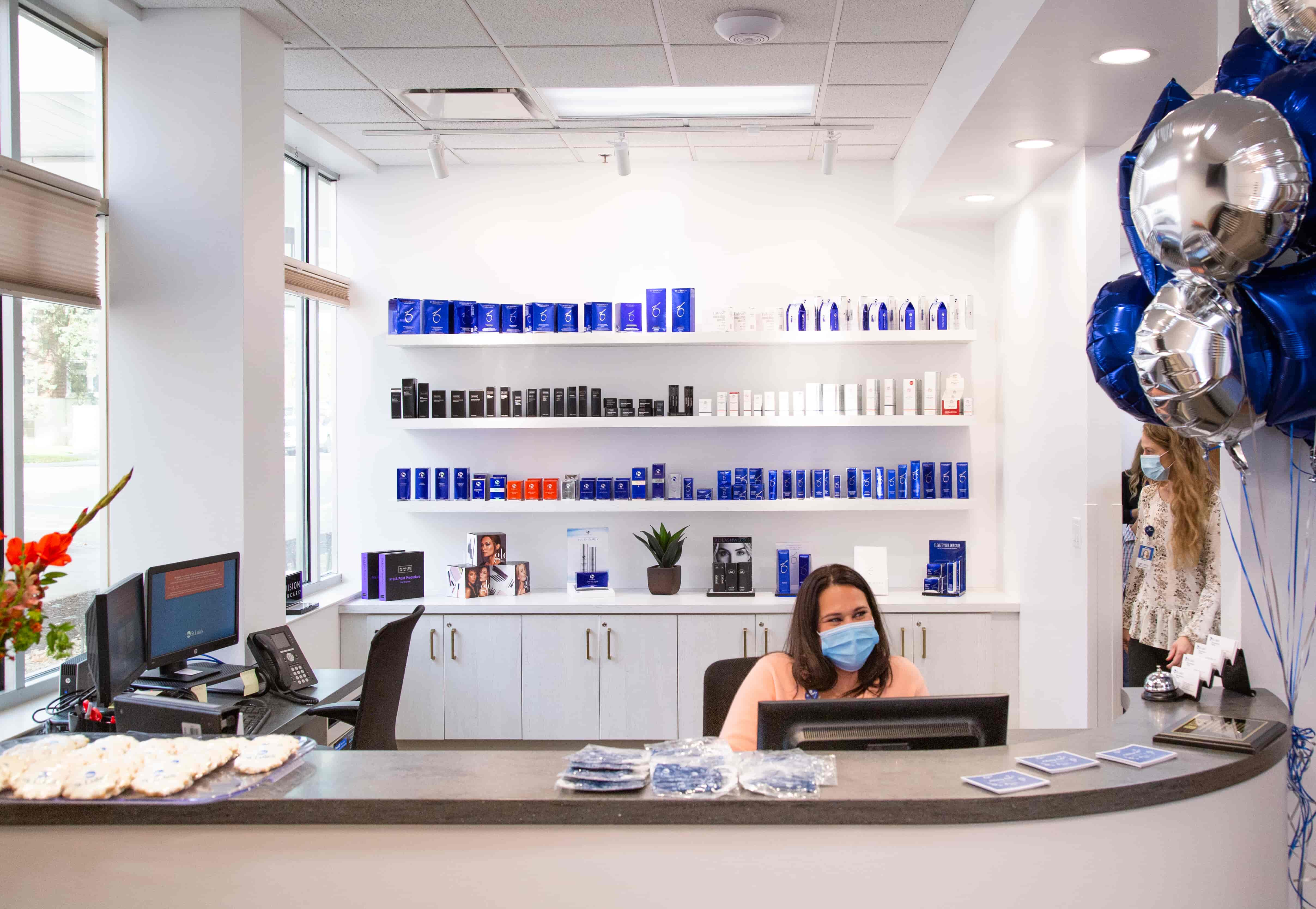 The main entrance and front desk of St. Luke's Rejuvenation Center in its new location.
Common procedures at the Rejuvenation Center
Before following her passion for skin care, Johnson worked for six years as a cardiac nurse. Now as a certified nurse injector, she brings expertise in anatomy and patient education to perform injections of Botox and other dermal fillers.
"Neurotoxins like Botox are one of my most frequent treatments," she said, especially since 2020, when the frequent use of masks made people aware of aging lines around the eyes, forehead, and between the eyebrows. "People say they have lines that make them look mad or angry when they're not. People also come after a significant event, like a wedding. They see pictures of themselves and realize how much they've aged."
"When we take care of ourselves, we feel more confident."
Johnson also sees many clients in their twenties and thirties seeking preventative treatment. "If you start young enough, those lines aren't as difficult to treat, especially if you're using medical grade skin care, sunscreen, and hydrating," she said.
Chronic jaw and neck pain is another ailment that can be treated successfully with Botox injections. "People aren't aware that you can put Botox in other areas to treat pain, migraines and jaw-clenching," said Johnson, who injects neurotoxins in the masseter muscle in the face so they don't move as much. This improves quality of life by decreasing clenching, headaches, and improving sleep. "You can get quite a bit of relief. I had it myself and it was life changing."
Each session with Johnson begins with a comprehensive consultation and discussion. Injections use very small needles and take just a few minutes.
"I really love the relationships I've developed with my patients," said Johnson. "There are times they come in and they don't feel so great about themselves. We talk about that. We have deep conversations that go beyond skin care and cosmetic procedures."
 
HydraFacial at St. Luke's
Client relationships are also valued by Annie Thoreson and Michelle Sturm, licensed estheticians at the Rejuvenation Center. In the new location and with new equipment, they can now offer the innovative HydraFacial treatment, which has been growing in demand across the region.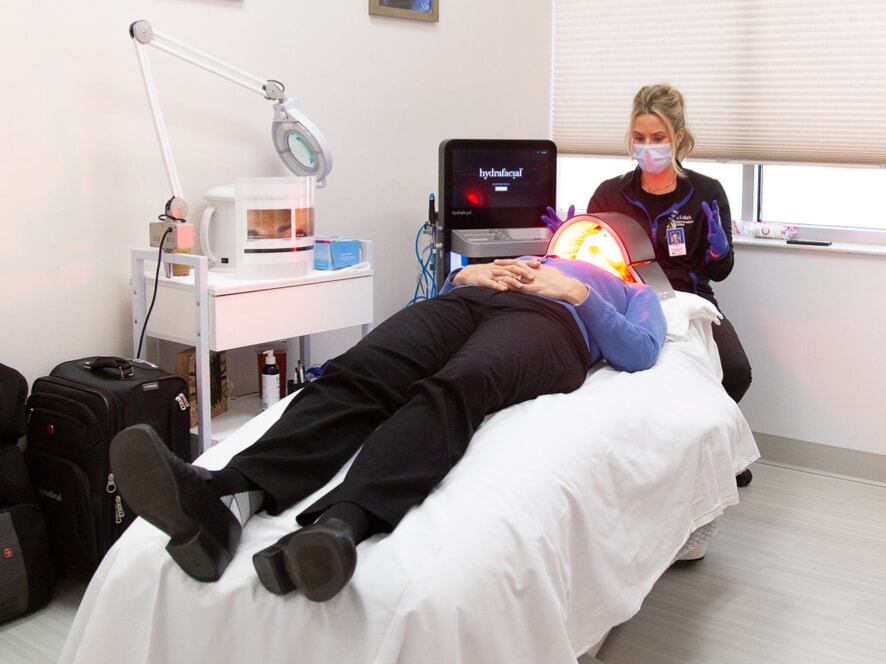 Annie Thoreson, LAPE, provides a HydraFacial treatment for a patient.
Annie Thoreson, LAPE.
HydraFacial is customizable for people of different ages and with varying challenges, like acne, sensitivity or aging. The process follows the traditional cleansing, exfoliation, peel, extraction, and hydration. But unlike traditional facials performed by hand, HydraFacial is performed by a licensed esthetician using a special device for more thorough, longer-lasting results.
After, there's little need for recovery. "You can go to a party tonight and you'd be fine," said Thoreson.
Other services at the Rejuvenation Center include a full range of Sciton laser treatments, including BBL, hair removal and Halo. In addition, Certified Massage Therapist Kayla Leveille offers a full array of massage services. Community members can also make appointments with the team for free consultations about services and products.
Kayla Leveille, LMT, ready to give a stress-relieving massage.
Thoreson especially enjoys discussing goals and products with clients. "Sometimes people come in with something in their head and we go with something different," she said. "Maybe they read something online, but not everything is for everybody."
 
Medical-grade skin care products
At the Rejuvenation Center, people can also purchase medical-grade skin care products. These products are formulated in laboratories and go through rigorous clinical trials, and the trained staff can help select the best products for each person.
"Your skincare is 80% what you do at home and 20% what you do here with us," said Thoreson. "When you go home, we want you using the best products."
The new location in St. Luke's Medical Office Pavilion also provides more privacy, plus free, close parking. Whether clients are leaving after laser treatment, a massage, or simply picking up product, the Rejuvenation Center's goal for them is the same: "I strive to give people natural results, to look exactly like themselves, just a little more confident and a little more refreshed," said Johnson.
"We're already beautiful. If I can provide care that helps people shine more, that's my goal at the end of the day."
To learn more about the medical spa, visit slhduluth.com/RejuvenationCenter.
To schedule an appointment, call 218.249.7910.
This article was originally featured in the January 2023 issue of The Woman Today magazine.