LAND OF 10,000 MASKS: St. Luke's, Essentia make joint appeal for more face masks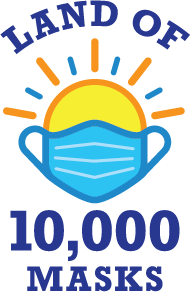 Faced with a critical need for more face masks, St. Luke's and Essentia Health have announced a joint effort to increase their supply by 10,000.
And we need help.
During this "Land of 10,000 Masks" campaign, we are seeking continued support from our communities, which already have been so generous. We're asking for even more donations as these homemade cloth masks help limit the spread of COVID-19 and protect our patients, staff and communities.
This virus is spread via droplet transmission, so it's crucially important to cover as many mouths and noses as possible. The Centers for Disease Control and Prevention encourages people to wear face coverings in public settings, especially where social distancing might not be possible.
"We are so grateful for the kindness, generosity and talent of our community," said Tonya Loken, community relations program manager at Essentia. "People are putting their heart and soul into handsewn masks that are vital to the health and safety of our colleagues and patients."
That sentiment was echoed repeatedly as the two Duluth-based health care systems collaborated on this drive.
"It has been so inspiring to see how our community has stepped up to help one another during these challenging times," said Catherine Carter Huber, executive director of the St. Luke's Foundation. "We really can't thank everyone enough for the outpouring of support they've shown us."
Step-by-step instructions for preferred mask designs can be found at EssentiaHealth.org/masks and slhduluth.com/masks.
Masks, as well as other items, can be dropped off at:
Essentia Health-Miller Hill Health Plaza
1600 Miller Trunk Hwy, Bldg. C
Duluth, MN 55806
M-F: 9 a.m. to 4 p.m.
St. Luke's Foundation
Northland Medical Center
1000 East First Street, Suite 102
Duluth, MN 55805
M-F: 8 a.m. to 4 p.m.
Another Essentia Health drop-off location is:
VIP Pizza-Superior
1201 Tower Ave
Superior, WI 54880
7 days a week: 11 a.m. to 11 p.m.