St. Luke's to Celebrate Launch of St. Luke's Comprehensive Breast Program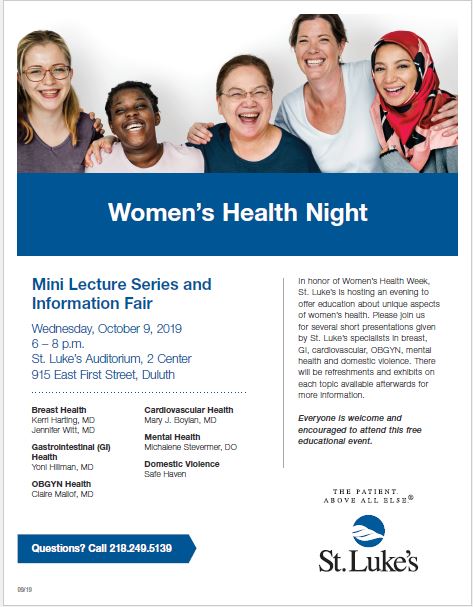 WHEN: Wednesday, October 9
WHERE: St. Luke's Building A, 5th Floor lobby, 1015 E. 1st Street, Duluth
TIME: 1:30 p.m.
WHO: Kevin Nokels, St. Luke's President & CEO
Dr. Kerri Harting, St. Luke's Breast Center
Dr. Jennifer Witt, St. Luke's Surgical Associates
WHAT: St. Luke's is excited to celebrate the launch of the St. Luke's Comprehensive Breast Program with a ribbon cutting ceremony. The program expedites access to care for women with breast health concerns. This program includes a comprehensive team that works collaboratively to provide patients with state-of-the-art care. The program also helps patients with breast concerns make an appointment quickly to shorten the timeframe for receiving results and helps them navigate through St. Luke's system.
As another way to celebrate the program, St. Luke's is highlighting it during a Women's Health Night event on October 9 from 6 to 8 p.m. at St. Luke's Auditorium. The event will feature a mini lecture series on topics like breast health and cardiovascular health, along with an informational fair. The City of Duluth will also be lighting Enger Tower pink to mark the occasion.