Transformative Medical Care in the Digital Age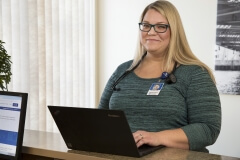 Published in Positively Superior April/May 2018
Transformative Medical Care in the Digital Age
What can you do when the flu knocks you down and you can barely make it to the couch let alone get to your doctor's office? Or what about when you have the recurrence of a urinary tract infection or pink eye and you need a prescription but don't want to go see a provider because you already know the problem?
St. Luke's eCare is now available for virtual online visits, with a healthcare provider responding within one hour, between 8 a.m. to 8 p.m., seven days a week. Minor health concerns that may be handled through eCare include cold and flu, urinary tract infections (UTI), vaginal yeast infections, minor rashes and more.
Patients log on to www.slhduluth.com/ecare to complete a brief survey about their health history and current symptoms. A St. Luke's provider reviews the replies and responds with a diagnosis and treatment plan. If medications are needed, the prescription is sent to the pharmacy of the patient's choice electronically.
St. Luke's has a pool of medical providers who are the eCare responders based at their Miller Creek Medical Clinic in Hermantown, Mariner Medical Clinic in Superior, Denfeld Medical Clinic, Mount Royal Medical Clinic, as well as their Urgent and Q care sites.
Patients do not need to be current St. Luke's patients to take advantage of the service. The virtual visit has a set fee of $30, payable by credit, debit or health savings card. This low cost is often less than paying for Urgent Care or emergency room trips that, for some, come either out of pocket or with high insurance deductibles.
Ben Bengtson, Clinic Manager of St. Luke's Miller Creek Medical Clinic, Lester River Medical Clinic and eCares, said, "A patient who cannot be treated online is not charged for the e-visit. Also, if we do not respond within the hour, patients are not charged for the diagnosis."
"Since St. Luke's eCare launched this past September, our biggest patient groups are senior citizens and children. Our most frequent virtual visits are for upper respiratory illnesses and for UTIs," he stated.
A virtual "waiting room" is often preferable to a real one, especially with the prevalence of flu this year. Aside from the bother of waiting, it is not wise for sick people to be surrounded by other sick, possibly contagious people. This is especially true for babies, children, the elderly and those with weakened immune systems.
Virtual visits, however, are for minor medical conditions only. In an emergency, patients still need to call 911 or go to an emergency room. Any issues that would require a hands-on physical exam, tests or x-rays must also be done in person.
With everyone feeling the constant demands of family, jobs, errands, child and elder care, saving time is essential. A study published in the Journal of the American Medical Association (JAMA) noted that a virtual visit saves 106 minutes on average, compared to an in-person appointment. Using St. Luke's eCare could give you back more than an hour of your day.
The convenience of virtual visits is undeniable. With a smartphone or computer, the virtual visit can happen anywhere with Wi-Fi or data access.
Physician's Assistant Camille Ingle, one of the providers for St. Luke's eCare, said, "Our patients include those who live in rural areas who may have a tough time getting to their own doctor or to an Urgent Care. eCare is another way we can be supportive of our patients and provide them a way to access medical care for themselves or their families."
Dr. Matt Hansmeier, an Urgent Care physician with St. Luke's, is another of the providers who handle cases on eCare. "We are finding this to be a really valuable tool in terms of access, especially for those who are too ill to come in for an appointment. I would encourage patients to take advantage of this low cost and effective method for patient care."
Tara Swenson, Clinic Manager for St. Luke's Mount Royal Clinic, Q Cares and eCare, appreciates how convenient, affordable, quick and easy eCares has already proven to be. "We really appreciate being able to provide a spectrum of care for our patients. Adding another layer to St. Luke's with eCare is a great option for everyone from college students to seniors. It is also wonderful for busy moms and dads to conveniently get care for their families.
Zipnosis is the Minneapolis based company providing their unique platform for virtual care for St. Luke's. Their adaptive online interview system pairs traditional medicine with next-generation online tools.
As their website describes it, they are "transforming care in the digital age." Sara Weigel, Zipnosis Customer Service Representative, said, "We think of this platform as 'urgent care with no front door.' St. Luke's leadership with eCare has been phenomenal. They are truly committed to working with us at Zipnosis to make this successful."
"Health systems are realizing the importance of an online care delivery channel for improving patient access to care," said Jon Pearce, CEO of Zipnosis. "We are proud to partner with St. Luke's to bring virtual care to the Duluth area."
St. Luke's includes a multi-specialty hospital in Duluth, a critical access hospital in Two Harbors, and 39 primary care and specialty clinics throughout the region, plus Urgent Care and Q Care Express Clinics. As virtual care becomes an integral part of the American health care system, St. Luke's is already front and center with their new eCare access.
"It is more important than ever to give our patients multiple avenues to receive care," said Sandra Barkley, Vice President of Clinics for St. Luke's. "The launch of St. Luke's eCare adds a new, convenient online access point to connect patients with the care they need, when and how they need it."