St. Luke's Welcomes New Board Member Dr. Mark Plachta and Elects 2018 Officers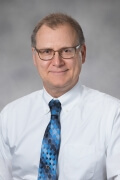 Dr. Mark Plachta from St. Luke's Internal Medicine Associates has joined St. Luke's Board of Directors.
Dr. Plachta has been with St. Luke's for more than 20 years. He graduated from the University of Minnesota Medical School in Minneapolis and completed medical training at Abbott Northwestern Hospital in Minneapolis. He is board certified in internal medicine.
Dr. Plachta joins the following board members:
Kevin Beardsley
Amanda Imes
Jeff Borling, Vice Chair
Brian Murphy, Chair
Mary Boylan, MD, Chief of Staff
Bryce Nixon
John Cloutier
John Strange
Jesse Frye
Yvonne Prettner Solon
Barbara Hayden Haugen, Treasurer
Aimee VanStraaten, MD, Secretary
Patrick Heffernan
Ruth Westra, DO
Edwin King Hall
Recently, Brian Murphy, Chief Lending Officer at North Shore Bank, was re-elected as board chair. Economic Development Lead at Great River Energy Jeff Borling was elected vice chair. St. Louis County Planning and Community Development Director Barbara Hayden Haugen was elected treasurer, and Dr. Aimee VanStraaten with St. Luke's Obstetrics & Gynecology Associates was elected to serve as secretary.