St. Luke's Treats Additional Medical Concerns Via eCare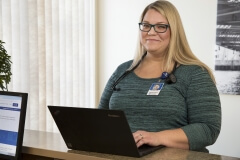 St. Luke's is pleased to announce that patients can now be treated for tick bites and skin concerns on St. Luke's eCare.
St. Luke's eCare is an online diagnosis and treatment service that enables people to receive convenient access to care by connecting them virtually with trusted St. Luke's health care providers. You do not have to be a current St. Luke's patient to use this service.
Patients can seek care using their smartphones, tablets or computers. After logging on to www.slhduluth.com/ecare, patients complete a brief online survey regarding symptoms and their health history. Once a patient's symptoms are entered, a St. Luke's provider reviews the information and then responds with a diagnosis and treatment plan. If medication is appropriate, prescriptions will be sent to the customer's preferred pharmacy for pick-up.
New dermatologic concerns being treated include Athlete's Foot, diaper rash, eczema, ringworm, shingles, skin irritations and more. Patients wanting to be treated for tick bites can have their tick bites examined. Other conditions treated on St. Luke's eCare include seasonal allergies, colds and influenza illnesses, pink eye and urinary tract infections.
St. Luke's eCare can be used at any time of day, with providers responding within one hour between 8 a.m. – 8 p.m., seven days a week. There is a set fee of $30 payable by credit, debit or health savings card.