St. Luke's & Duluth Huskies to Honor EMS with Special First Pitch Ceremony for Trauma Patient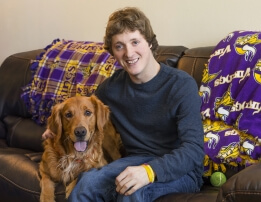 WHEN: Friday, August 3
WHERE: Wade Stadium, 101 North 35th Avenue West, Duluth, MN
TIME: 6 p.m.
WHO: Reese Stariha, St. Luke's Trauma Patient
Dr. John Styliaras, St. Luke's Neurosurgeon
Dr. Michael Stellmaker, St. Luke's Chief of Trauma
Felicia Lizaola, Rebecca Johnson and Lexi Vreeland, St. Luke's ICU Nurses
Tara Johnson, Alida Johnson, Gold Cross EMS
Stacy Vig, Tom Michalek, Jen Kromery and Jamie Kuffel, Gordon-Wascott EMS
WHAT: Friday, August 3, the Duluth Huskies are hosting EMS Night at their game against the Mankato MoonDogs. To pay tribute to EMS and other emergency providers, St. Luke's is holding a special first pitch ceremony with trauma patient Reese Stariha.
Reese was injured in a crash the day after Thanksgiving in 2016. His friend was driving as they were returning from a hunting trip in northern Wisconsin. Reese was thrown from the car. The crash left Reese with pieces of his neck bone broken off and fragments partially severing his spinal cord. Those fragments put pressure on his spine, causing further damage. Reese lost function below the injury site and it was thought he might never walk again. He's never given up and has started taking steps on his own.
Reese is taking part in the ceremony to thank those special people who helped him. The EMS and team of care providers from St. Luke's are taking part in the ceremony to not only cheer Reese on as he throws the first pitch, but to cheer him on as he continues on his journey to getting back on his feet.