St. Luke's Celebrates New Center for Diagnostic Imaging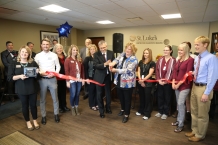 St. Luke's recently celebrated the opening of its new, expanded, state-of-the-art MRI Center for Diagnostic Imaging with a ribbon cutting ceremony and open house.
"We've partnered with Center for Diagnostic Imaging to provide advanced technology which also increases the accuracy and speed of diagnosis and treatment," St. Luke's President and CEO John Strange said. "We're excited to offer our patients the advanced technology that will give them more insight to the questions they have about their health."
The Center features 3 new scanners. The state-of-the-art High-field 1.2T open MRI scanner is twice as strong as the Open Upright MRI, meaning clearer and more detailed images to provide a more informed diagnosis. The Center also features a Wide-bore 1.5T MRI that's the gold standard for the majority of exams and the Wide-bore 3T MRI which excels at specialty exams, including neurological and orthopedic imaging.
To learn more visit www.slhduluth.com/CDI.