St. Luke's Launches Virtual Care Clinic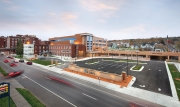 St. Luke's is excited to announce the launch of St. Luke's eCare – an online diagnosis and treatment service. It enables people to receive convenient access to care by connecting them virtually with trusted St. Luke's healthcare providers. People do not have to be current St. Luke's patients to use this service.
"It is more important than ever to give our patients multiple avenues to receive care," said Sandra Barkley, Vice President of Clinics for St. Luke's. "The launch of St. Luke's eCare adds a new, convenient online access point to connect patients with the care they need, when and how they need it."
Using evidence-based online adaptive interviews, patients can seek care using their smartphones, tablets or computers. After logging on to www.slhduluth.zipnosis.com, patients complete a brief online interview regarding symptoms and their health history. Once a patient's symptoms are entered, a St. Luke's provider will review the interview results, and then respond with a diagnosis and treatment plan. If medication is appropriate, prescriptions will be sent to the customer's preferred pharmacy for pick-up.
St. Luke's eCare can be used at any time of day, with providers responding within one hour between 8 a.m. – 8 p.m., seven days a week. Patients can be treated virtually for more than 10 common health conditions including seasonal allergies, cold and flu, pink eye, urinary tract infection and minor skin conditions – all for a set fee of $30 payable by credit, debit or health savings card.
The virtual care service is powered by Zipnosis – a Minneapolis-based company that partners with leading health systems to provide virtual care and telemedicine services, meeting the needs of patients while improving access to care and maximizing clinical capacity.
"Health systems are realizing the importance of an online care delivery channel for improving patient access to care," said Jon Pearce, CEO of Zipnosis. "We are proud to partner with St. Luke's to bring virtual care to the Duluth area."
Share This Article: