St. Luke's Partners with Superior Fire Department to Improve Firefighters' Heart Health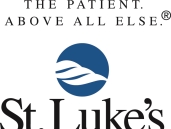 St. Luke's Regional Heart & Vascular Center has teamed up with the Superior Fire Department to improve the heart health of their firefighters.
Through a grant given to the Superior Fire Department, all Superior firefighters are eligible to come to St. Luke's Regional Heart & Vascular Center to undergo stress tests on exercise bikes and have chest x-rays and labs. Certified Nurse Practitioners Carol Marsh and Lisa Hughes will administer the tests. Cardiologist Dr. Disha Mookherjee then will review the results and make customized recommendations for each firefighter.
"The visit will help identify any heart health problems and aid in developing a plan to prevent future issues," said Dr. Mookherjee. "It's important for us to do what we can to improve their health since they're giving back to their community in such a big way."
Join us Tuesday, May 9 at 8 a.m. as Superior Firefighter Cameron Vollbrecht undergoes his stress test and see what that entails.