St. Luke's Chequamegon Clinic Welcomes Dana Katchka, NP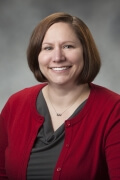 St. Luke's Chequamegon Clinic in Ashland welcomes Nurse Practitioner Dana Katchka.
Katchka received her Master of Science in Nursing-Family Nurse Practitioner from Walden University, Minneapolis. She is certified by the American Academy of Nurse Practitioners.
Prior to joining St. Luke's, Katchka was a registered nurse at Memorial Medical Center in Ashland, Wisconsin, and before that at Ashland Health and Rehabilitation Center in Ashland.