St. Luke's Welcomes Hospitalist Dr. Jason Klipsic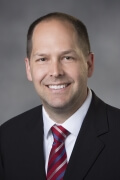 St. Luke's is pleased to welcome Dr. Jason Klipsic as a hospitalist.
Dr. Klipsic received his medical degree in Osteopathic Medicine at ATSU-Kirksville College of Osteopathic Medicine, in Kirksville, Missouri. He completed an Internal Medicine Residency at Gundersen Health System in La Crosse, Wisconsin.