St. Luke's Undergoes Rigorous Survey, Earns National Quality Based Accreditation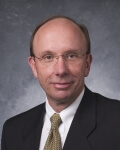 After a rigorous three-day survey, St. Luke's has achieved national accreditation from DNV Healthcare, the newest Medicare-certified hospital accreditation organization.
St. Luke's decided to pursue DNV accreditation to further its commitment to continually improve the quality of care it provides. According to Dr. Gary Peterson, St. Luke's Vice President and Chief Medical Officer, DNV hospital accreditation addresses the demands of quality-driven hospitals that are dedicated to patient-centered care.
"Earning national accreditation through a program such as DNV shows St. Luke's commitment to quality, process improvement and providing excellent healthcare," Dr. Peterson said. "Partnering with DNV helps us identify our strengths so we can continue to excel in those areas and assists us in finding opportunities to improve."
DNV is the first and only accreditation program to integrate the CMS Conditions of Participation with the ISO 9001 Quality Management Program. The DNV accreditation program emphasizes continual improvement and innovation. Historically, other accreditation programs have been rigid inspections, not designed to promote new ideas within the hospital. DNV's program, while being extremely rigorous, taps into the know-how of the hospital's caregivers, techs and administrators to develop best practices.
"Our approach to accreditation acknowledges that every hospital is different; its needs and challenges are unique to the community it serves," says Patrick Horine, senior vice president of accreditation for DNV Healthcare.
Partnering with DNV allows hospitals to worry less about the accreditation survey itself. Instead hospitals spend more time on what matters most, like patient safety, infection prevention and other key challenges.
"DNV is an impressive system that focuses on quality and patient safety," Dr. Peterson said. "The inspectors are very thorough, but the survey doesn't feel like an inspection. Rather, it is more of a partnership that involves all levels of staff working together. The DNV program holds us to an even higher standard than other survey programs and is a win-win for us, our patients and our community."
For more information about DNV Healthcare, visit dnvaccreditation.com.