St. Luke's Anesthesiologist Dr. Kathryn Thompson Begins Outreach Services at Lake View Hospital in Two Harbors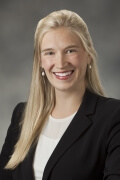 Lake View Hospital in Two Harbors is pleased to welcome Dr. Kathryn Thompson, a pain management specialist with St. Luke's Interventional Pain Management.
She will be treating patients there once a month. However, a patient's initial consultation will take place with Dr. Thompson in Duluth.
Dr. Thompson received her medical degree at the Mayo Medical School in Rochester, Minnesota and completed her anesthesiology residency at the Mayo Clinic. She is board certified in pain medicine.
She performs a variety of interventional pain management therapies including cervical, thoracic and lumbar epidural steroid injections; cervical, thoracic and lumbar radiofrequency ablation or facet injections; ultrasound guided joint, nerve and trigger point injections; and sympathetic and abdominal plexus blocks.
Talk with your primary care provider about a referral.