St. Luke's General Surgeon Dr. Michael Stellmaker Begins Outreach Services in Two Harbors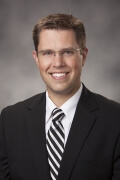 Dr. Michael Stellmaker, a general surgeon with St. Luke's Surgical Associates, is now seeing patients at Lake View Hospital and Clinic in Two Harbors once a month.
Dr. Stellmaker received his medical degree at the University of Minnesota Medical School in Minneapolis. He completed his general surgery residency at Allegheny General Hospital/Allegheny Health Network in Pittsburgh, Pennsylvania.
Dr. Stellmaker provides a wide spectrum of care including hernia repair, gastrointestinal surgery, gallbladder removals, screening colonoscopies, and skin biopsies on the body and neck.
Talk with your primary care provider about a referral.