Laura MacArthur Elementary Students to Deliver Donation to St. Luke's Cancer Patients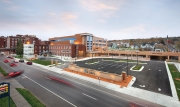 Students at Laura MacArthur Elementary School in Duluth are giving back to those in need. The students are part of Laura MacArthur's after school program and will be donating Brave Boxes to cancer patients at St. Luke's. They chose to craft and fill the boxes as part of a service project.
The students' desire to help cancer patients came from something that hit close to home. A first grader and preschooler lost their 37-year-old mom after a hard fought, year-and-a-half long battle with colon cancer. Seventy students raised $200 and were able to purchase 25 Brave Boxes. The students then decorated and filled the boxes with portacath pillows they helped sew, Kleenex, lip balms, lotions, socks, ginger tea, ginger candies and handwritten letters for cancer patients.
The students can't wait to come gift the boxes after learning so much about cancer. They will be joined by Mayor Emily Larson and members of St. Luke's Regional Cancer Center to celebrate this great gift of giving back to those in need. Patients from St. Luke's Regional Cancer Center have also been invited to attend.