St. Luke's Makes Every Moment Count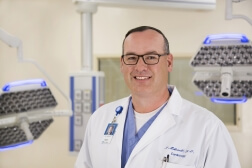 Published in the Duluthian magazine, March/April 2016
St. Luke's Makes Every Moment Count
How Saving Seconds Can Save Lives in Heart Attack Care
You've heard it over and over again. When it comes to medical emergencies, every moment matters. Knowing how to respond quickly and with the right plan of action is key to delivering the best patient outcomes.
This "seconds count" mentality is especially important in the case of severe, life-threatening heart attacks known as ST-segment elevation myocardial infarctions, or STEMI. A STEMI is when a coronary artery is 100 percent blocked, and part of the heart is unable to receive blood. As you can imagine, clearing this blockage is a time-sensitive matter. The sooner the blockage is removed, the better the patient will recover.
The question is: how do hospitals ensure that the most responsive care happens every time?
That's exactly what the American Heart Association set out to answer in 2003 by creating Mission: Lifeline, a proactive system of care that unites first responders, hospitals and health care providers in a set of proven guidelines for the treatment of patients suffering from acute coronary syndrome. In addition to establishing these guidelines, Mission: Lifeline also recognizes hospitals and EMS providers for meeting these standards.
In 2015, St. Luke's was the only hospital in Minnesota to receive the Mission: Lifeline® Gold Receiving Quality Achievement Award. This means that St. Luke's met established benchmarks for treating severe heart attacks that are designed to ensure better lives and faster recovery times for patients.
Dr. Scott Mikesell, an interventional cardiologist and director of the cardiac catheterization laboratory at St. Luke's, explained that consistently meeting those benchmarks requires a team mentality.
"Receiving this award requires the dedicated efforts of everyone involved, from the EMTs to the nurses, physicians and rehabilitation staff. We all believe this is important, because it's the best way to serve our patients. That's what drives us to uphold these standards every time," he explained.
Timing is Everything
One of the measures required to receive the Mission: Lifeline award is a 90-minute "door-to-balloon time," or the ability of a hospital to clear a blockage within 90 minutes of a patient's arrival. If a patient is being transferred to St. Luke's from another hospital the time limit increases to 120 minutes—which isn't very much time considering patients often travel from Hibbing and Ashland. The clock starts the moment a patient is presented with a STEMI, so the earlier the detection of this severe condition, the better.
For this to happen, the right systems and procedures have to be in place, and those procedures must be practiced over and over to maximize the time they have. Often, it starts in the field.
"We've been able to trim time by having the emergency medical technicians (EMTs) conduct electrocardiograms (ECGs) in the field," Dr. Mikesell explained. "It's a difficult task because taking an ECG is an art in and of itself. It requires a significant amount of training and practice, but when done correctly, treatment can begin much sooner."
What happens in the field, in transit, at the hospital and in recovery all play a role in a patient's life after a heart attack. Dr. Mikesell explained that the quicker they can open the arteries, the smaller the heart attack is going to be. "That means better heart function and fewer complications after the procedure," he continued.
Changing Lives by Saving Seconds
Following the Mission: Lifeline treatment guidelines isn't about earning recognition. It's about putting the patient above all else.
When the Mission: Lifeline compliance criteria are met, STEMI patients are sent to the right place, the right people are called into action and the blockage is treated at a much faster pace.
Mission: Lifeline is an initiative that's close to Dr. Mikesell's heart. Over the past three years, he has served as the cardiology co-chair to implement these projects across the state. His passion for delivering quality, responsive care not only benefits his patients and local community, but also hospitals and systems around Minnesota as he helps make these benchmarks the standards in cardiac care.
"Life changes when you have a heart attack. Our goal is to help you feel better and live better by acting quickly and in the best ways during those critical moments," Dr. Mikesell explained.
Share This Article: