St. Luke's Electrophysiologist Dr. Porur Som Begins Outreach to Raiter Clinic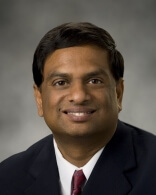 Raiter Clinic is pleased to welcome Dr. Porur Som, an electrophysiologist with St. Luke's Cardiology Associates, to the Cloquet community. Dr. Som is available at the Raiter Clinic one Friday each month.
Dr. Som received his medical degree from Madras Medical College in Madras, India. He completed his residency in internal medicine at State University of New York in Buffalo, New York. Dr. Som completed his fellowship in cardiology at the University of Minnesota in Minneapolis, and his fellowship in electrophysiology at Cedars-Sinai Medical Center in Los Angeles.
Dr. Som is board certified in clinical cardiac electrophysiology and cardiovascular disease.
Talk with your primary care provider about a referral.