St. Luke's Welcomes New Media Marketing Specialist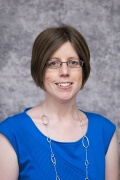 Melissa Burlaga has been named Media Marketing Specialist at St. Luke's in Duluth.
Burlaga will be the main media contact for St. Luke's healthcare system which includes two hospitals, 14 primary care clinics, 24 specialty clinics, and two pharmacies. She will also enhance media and community relations.
A native of the Duluth area, Burlaga began her career at Northland's NewsCenter. While there, she produced two Emmy nominated newscasts and a Northwest Broadcast News Association award winning newscast. Next, she joined the team at KQDS Fox 21 where she led the newsroom as Assistant News Director for the past 3 years.
Burlaga is a University of Wisconsin-Superior alumna.
Share This Article: