St. Luke's Welcomes New Board Members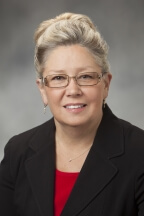 St. Luke's is pleased to welcome Yvonne Prettner Solon and Dr. Jake Powell as the newest board members.
Yvonne Prettner Solon has held political seats on the Duluth City Council, in the Minnesota Senate and most recently as the Lieutenant Governor of Minnesota. She is trained as a clinical psychologist and maintained a clinical practice for over 30 years, the last 25 years being at St. Luke's until she retired in 2010.
Dr. Jake Powell received his medical degree from the University of Minnesota in Minneapolis and completed his internal medicine residency at Abbott Northwestern Hospital in Minneapolis. He joined St. Luke's Internal Medicine Associates in 2004.
St. Luke's board members include:
Kevin Beardsley
Lisa Bodine
Jeff Borling
John Cloutier
Marlene David
Mark Emmel, Past Chair and Secretary
Jesse Frye, Chair
Edwin King Hall
Dave McMillan, Vice Chair
Dale Moe
Brian Murphy, Treasurer
Jake Powell, MD
Yvonne Prettner Solon
John Strange
Ruth Westra, DO
Linda Van Etta, MD, Chief of Staff