Inside the Mind of Dr. Rebecca Meyerson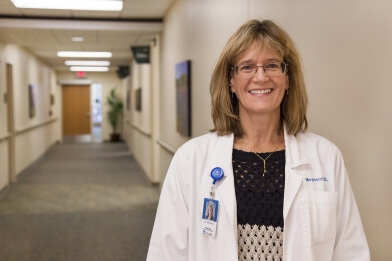 Published in The Woman Today magazine, February/March 2016
Inside the Mind of Dr. Rebecca Meyerson
Meet St. Luke's newest neurologist
The human brain is a fascinating instrument. In an average adult, the brain weighs about three pounds, which gives humans the highest brain-to-body size in the animal kingdom. It contains over 100,000 miles of blood vessels, over 100 billion neurons, and uses about 20% of the total oxygen and blood circulating in your body. Yet for all its remarkable biology, it is the brain's ability to think—to form conscious thoughts—that has long captivated St. Luke's Neurologist Dr. Rebecca Meyerson.
The birth of an idea
"I grew up in a large family; I was the youngest of five," recalls Dr. Meyerson, "And it seemed to me that my older siblings were all really successful at their thing, and I started to wonder, 'what makes them so smart? How do they think?' And that curiosity is what really started me down the path to studying neurology—which became my thing."
As she grew older, her interests led her to medical school, where she discovered neurology during a rotation at Hennepin County Medical Center. "Like a lot of students, I was interested in several aspects of medicine, but during my neurology rotation, I had the benefit of working with Dr. David Anderson, who was one of the most brilliant clinicians I have ever met. He had such insightful diagnoses of patients, and treated them with such respect. Watching him work, and seeing the impact of that work, I knew that I wanted to emulate him."
A specialty within a specialty
Dr. Meyerson said that people are sometimes confused over the nature of her specialty. "When it comes to treating conditions of the brain, there are many areas of specialization. As a neurologist, I specialize in diagnosing, treating and managing disorders of the brain and nervous system. My work mainly involves treating diseases such as multiple sclerosis, epilepsy, Parkinson's or Alzheimer's disease, or cognitive impairments such as a stroke or traumatic brain injury." When surgery is required, Dr. Meyerson works with a broad team at St. Luke's that includes neurosurgeons and physical, occupational and speech therapists.
"I find in my work that there are a lot of misperceptions about diseases of the brain, and how the brain can recover. Often, patients and their families are looking to us to somehow 'make it all better.' While I am amazed every day about the brain's resiliency, the reality is that, with many neurological issues, our job is to slow the process of the disease as much as possible."
A process of continual learning
Much of what we thought we knew about the brain, says Dr. Meyerson, has turned out to be incomplete—or incorrect. "I used to think that the more I studied, the more I would understand. What I have found instead is that I am always discovering that the more I think I know, the more I realize how much I still don't know about the brain and how it functions."
When it comes to maintaining our mental machines, however, Dr. Meyerson says that it is definitely a case of "use it or lose it. Studies show us that those who stop being active participants in life are going to mentally decline much more quickly. Mental and physical activity is critical to keeping our brains in good working order."
To that end, Dr. Meyerson recommends activities that engage the body and mind. "Exercise is the biggest thing you can do to maintain your brain's function. By increasing the blood flow to the brain, you are increasing all the good stuff that your brain needs." But, above all, says Dr. Meyerson, exercise your brain by learning new things every day. "Our brains crave stimulation. Stay engaged with life. Don't ever set the switch to 'autopilot.'"
Share This Article: