Care Coordination: Putting Patients First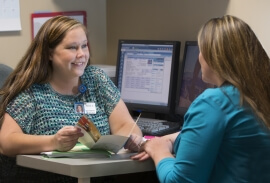 Published in Moms & Dads Today, May/June 2015
Care Coordination: Putting Patients First
For most of us, interactions with health care providers tend to come at times when we aren't at our best. Maybe we're sick. Or stressed. Anxious. Or depressed.
And that's to say nothing of the ordinary complexities of health care itself. Various doctors, specialists, nurses, technicians, procedures, locations—the system that exists to help us can sometimes be difficult to navigate.
It is because of the needs that arise at this intersection of patient and provider that the idea of care coordination was born. According to Aaryn Ackley, a care coordinator at St. Luke's Mariner Medical Clinic in Superior, care coordination is the vital link that helps people get the care they need—and in the way they need it.
"Care coordination is all about taking into account all the aspects of health care—care for the whole person—and making sure they are all integrated," said Ackley. "It is a relatively new addition to the health care field. Care coordinators at St. Luke's primary care clinics take on some administrative duties previously done by physicians and nurses so these providers can fully focus on patients. Care coordinators also provide a huge amount of emotional and practical support for patients and families who may be dealing with complex medical needs that involve lots of touchpoints within health care."
She added, "Care coordination is absolutely the future of health care." And, through an initiative for primary care clinics, St. Luke's has already stepped into that future for the benefit of patients using the 'Health Care Home' approach.
Health Care Home
According to the US Department of Health & Human Services, care coordination "involves deliberately organizing patient care activities and sharing information among all of the participants concerned with a patient's care. This means that the patient's needs and preferences are known ahead of time and communicated at the right time to the right people, and that information is used to provide safe, appropriate and effective care to the patient."
Krista Harju, children's mental health care coordinator at St. Luke's Pediatric Associates, says this definition squares with the initiative the state of Minnesota is implementing to advance care coordination in clinics around the state. According to Harju, this approach in Minnesota is called a 'Health Care Home.'
"The name is a little confusing, because some people think it is referring to a specific place or building," said Harju. "Health Care Home (or HCH) is a team approach to your health care, that may include a care coordinator, if your needs are more complex. HCH clinics operate as a team, providing care coordination. Not every patient will have a designated care coordinator, but every patient can get coordinated care through this patient and family-centered team approach. It truly puts the person at the center of his or her care." Harju added that all St. Luke's primary care clinics are either certified by the Minnesota Department of Health as a Health Care Home or in the process of obtaining their certification.
A real-world example
Harju, who works with children and their families, gives this example of the practical difference that care coordination can make. "Let's say we have a single mom who has a young teenage son. Maybe he is overweight and is dealing with diabetes. In addition to his diabetes, however, he is also depressed and not really engaging in school. In the past, that mother would have to deal with all of those issues on her own. And while the health issues would seem to be a priority, there is so much more going on with her son that could be affecting his health."
Now, take that same scenario, only this time, a Health Care Home coordinator at a St. Luke's primary care clinic is integrating the patient's care:
"After the physician refers this young man to care coordination, the care coordinator is alerted that he is coming in for an appointment tomorrow about his diabetes. Before he arrives, we've reached out to community resources that can help him deal with his depression. We've lined up a dietitian to help him control his weight. And, after getting consent from his mom, we've reached out to the school to help him in his classes. His care coordinator is even making sure he has access to healthy foods and exercise options."
All of these services, says Harju, are actively managed by a care coordinator. "The care coordinator can be the person to help the patient or family navigate through the health care system, and can be a continuous point of contact for those patients with more complex needs. Care coordination may include a care plan, contact with community service providers, and contact with the care coordinator as needed," she said.
Care coordination is a relatively new concept in health care, but according to Ackley, it is a discipline that is already making a huge difference for patients. "Every week, I get cards, letters—sometimes even chocolates—from patients who are just so happy to have an advocate working with them to get the care they need. It is a hugely rewarding job." She added, "Every night, I come home and tell my husband: 'I just have the best job.'"