Putting the Patient Above All Else for 45 Years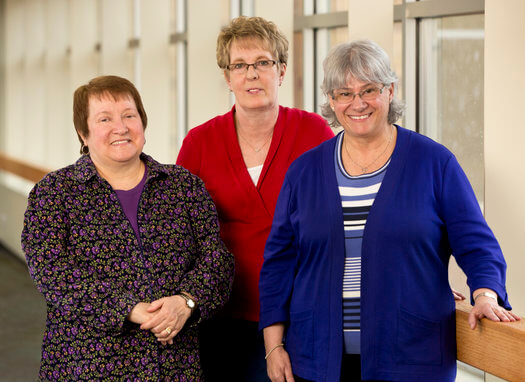 Each spring, St. Luke's honors employees at its Annual Service Awards event. This year, three employees reached an employment milestone as Gale Bouchard, Theresa "Terri" Langlois, and Mary Laverdiere were honored for their 45 years of service to St. Luke's and its patients. In talking with the women, two things are very clear: they can't believe how quickly time has passed, and they all enjoy work that is challenging and engaging.
Theresa "Terri" Langlois, Central Scheduling
For Theresa Langlois, the summer after high school graduation in 1968 was a lot of fun, until she realized that she needed a job in the fall. She started as a nurse's aide at St. Luke's Hospital.
"Back then, St. Luke's had a nursing program, and they trained you at the hospital," Theresa says. She spent many years as a nurse's aide, first in pediatrics and then in physical therapy.
Once she had children she was ready to quit, but St. Luke's offered her a night job, cleaning doctor's offices so she could be with her children during the day. When she was ready to return to daytime work, she started scheduling for orthopedics and helped with the planning and setup of the new centralized scheduling system.
Today she schedules doctor appointments and appointments for diagnostic imaging, such as mammograms. "I love it that I get to talk to so many people each day," Theresa says.
She's also grateful to St. Luke's. "St. Luke's has taken good care of me from the time I was 18 years old," she says. "There were things I never thought I could do and St. Luke's said, 'You can do it, we know you can,' and I tried it and I surprised myself. They always believed in me." But what she enjoys most is helping patients. "I like knowing that I can help somebody. That's what keeps me going."
Gale Bouchard, Central Supply, Processing and Distribution
Gale Bouchard's first job out of high school was working for a motel when her friend Theresa Langlois called her. "She told me, you ought to go down to St. Luke's Hospital and give it a try," Gale recalls. "In my mind, I thought working for St. Luke's would be a temporary thing, because I didn't know what I wanted to do."
Like Theresa, Gale worked as a nurse's aide for ten years. When she wanted a change, she worked as a messenger for the pharmacy and central supply before deciding to take a permanent position with central supply.
Every day she's on the phone with doctors and nurses, helping them get the products they need. Over the years, the job has changed a lot. "Back then, we made a lot of things ourselves. But now you can order so many commercial products."
Gale also enjoys her coworkers and the challenges of her work. "You can rely on people here. It's really a good group to work with. And no matter how long you work here, there's always something new. It's always interesting," she says.
Mary Laverdiere, Patient Accounts
Mary Laverdiere's high school teacher worked at St. Luke's Hospital during the summer months and helped Mary get a work-study job in the business office. When there was an opening for a full-time position, she applied and got the job. "It's pretty amazing to have this career, because when I was in high school I thought, what will I do? But this job is always challenging and it's never boring."
Mary worked her way up to being department manager, and she appreciates the support she's received from St. Luke's. "St. Luke's has training programs, and they're very good at supporting you and promoting from within if you have the qualifications." She also enjoys the opportunity to help patients. "It's not easy for patients, dealing with insurance. Our staff is excellent at explaining things and helping people."
She also appreciates the team approach to ever-changing insurance and Medicare regulations. She says, "The work is challenging, and when you go home, you feel like you've really accomplished something."
After 45 years, it's very clear that these St. Luke's employees have found the answer: a job that includes life-long learning and interesting challenges is the key to a successful career.