The True Impact of Concussions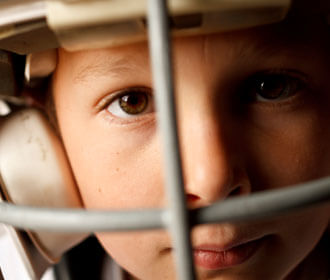 The prevention of concussion is a big topic today, for student athletes as well as professionals. David Rust, MD, orthopedic specialist at St. Luke's Orthopedics & Sports Medicine, dispels some of the myths and explains the stepwise approach to recovery from concussion.
Myths about concussion
Imaging can diagnose a concussion. "CT scans, MRI and x-ray are rarely needed," says Dr. Rust. "These scans don't have the ability to detect what's going on with a concussion."
Wake your child every few hours. "It's not true that a child with a concussion may go to sleep and not wake up. Let your child sleep through the night. It's good for healing," he says.
Memory loss means the concussion is worse. "This is also not true," says Dr. Rust. "The duration and extent of memory loss doesn't predict the severity of the concussion or how long it will take to heal."
Nausea is a common symptom. "It's okay if your child has a vomiting episode," he says, "but if they have three or more, you need to take them to Urgent Care or the Emergency Room."
Concussions require time to heal
The biggest goal of concussion treatment is to avoid another injury and give the body time to heal and completely recover. "Every concussion injury is different, and the symptoms are different," says Dr. Rust. "And if a child has had more than one concussion, their recovery might be slower, and they are more likely to have recurring symptoms."
Return to play with a stepwise approach
"The stepwise approach takes a graduated return to recovery, monitored by a medical provider or a physician," says Dr. Rust. The Sports Concussion Institute has an informative PDF that describes the approach. "It starts with a day of rest," he says. Children can go to school, but gradually return to physical activity over five days as long as there are no symptoms. "Symptoms can vary from headaches to difficulty thinking to feeling fatigue when they exercise," says Dr. Rust.
Increase awareness of sports outside of the high school league
There are many high-impact sports that can put kids at risk for concussion, but some are lower on the awareness scale because they are not part of the high school league and athletes may not have access to impact testing. Sports such as snowboarding, skiing, skateboarding, bicycling and ATV riding can put children at risk for concussion. "Parents need to be aware, so if their child has an impact injury, they can get them in for appropriate treatment as soon as possible," he says.
For more information
There are a number of organizations working to prevent concussion. One site, Stopsportsinjuries.org, is championed by the leading orthopedic and sports medicine organizations, as well as the American Academy of Pediatrics. They have comprehensive concussion information for parents, coaches and athletes.