A Career in Corrections Medicine
How one St. Luke's RN found her calling in an unexpected place
Celka, RN, never envisioned herself working in corrections medicine. However, two years ago she stumbled upon a job posting at the St. Louis County Jail. Intrigued, she decided to take a leap of faith and apply for the nurse supervisor position there – a decision she would not regret.
"Jail has such a bad stigma," she said. "Everyone thinks you're walking into a place with awful people, that it's unsafe or dirty. But that's not true. Everyone who works here is like one big family. We're all watching out for each other."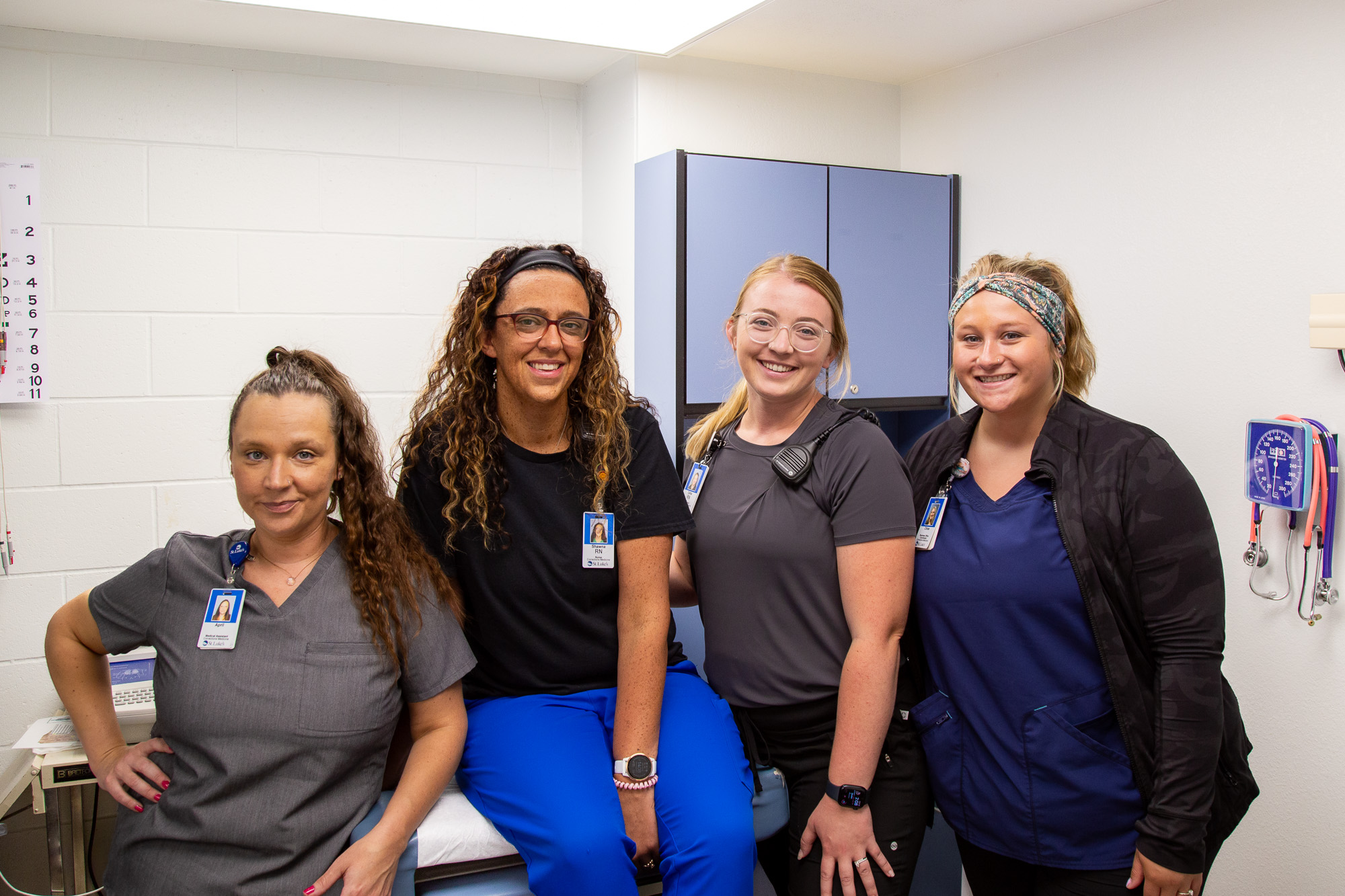 Celka and her colleagues enjoy working together and helping underserved individuals in the community. 

From her very first week at the jail, Celka knew she had found her place. She was happy to find that, despite the negativity associated with correctional facilities, her work was engaging and fulfilling. To this day, she enjoys a fast-paced environment that's filled with variety.
The best part of her work, in her opinion, is the opportunity to help vulnerable people who really need it.
 
Breaking down stereotypes
"A lot of people in the jail have just made mistakes, or they're suffering from a mental health crisis or an addiction that led to them making a wrong choice," Celka explained with compassion and understanding. "We're able to see past the stereotypes. They're just people who need care."
In addition, Celka was struck by how many of the inmates have been deprived of access to health care for some time before their incarceration. She loves the opportunity to help these individuals get healthy again.

"Maybe they couldn't afford medical care, or they had a warrant out for their arrest, so they weren't going to the doctor's office," she said. "Whatever was keeping them from getting the health care they need, we're here to help them get back on track."
Enjoying fast-paced, meaningful work
Celka appreciates that working as a nurse in the jail is far from routine. "There is no typical day," she said. "It's always fast-paced with a lot of variety."
The nursing team is responsible for the health of each inmate throughout the facility. They perform medical assessments on every new inmate, monitor those going through alcohol or drug withdrawal, arrange appointments for pregnant women, and attend to current inmates who need care.
Much of their efforts set the stage for ongoing care beyond incarceration. This has become even more seamless since St. Luke's became the healthcare partner for the St. Louis County Jail and Northeast Regional Corrections Center (NERCC).
 
Partnering with St. Luke's
Since the partnership with St. Luke's began in Fall of 2022, Celka has noticed a significant improvement in providing continuous care.
"It's so much easier," she said. "We can schedule future appointments for them within the St. Luke's system. We're able to easily share records and information. Also, if we have a medical emergency and have to send someone to the hospital, that's a lot easier, too."
St. Louis County Jail Administrator Jessica Pete also appreciates the continuous care provided by St. Luke's. "The partnership with a local provider has been a nice added bonus for people while they are at the jail and when they leave because it creates a smoother transition," she said. "Overall, it's a feeling of better care knowing they have a connection to care once they're out in the community."
St. Luke's also offers a medication-assisted treatment (MAT) program for inmates grappling with opioid addiction. This offers them support and a pathway to recovery.
 
Find your calling in corrections medicine
Celka's journey in corrections medicine had taken her to unexpected places of compassion and understanding. Her commitment to providing care to those often marginalized and misunderstood had brought new purpose to her nursing career. Overall, she's grateful for her role and wants to see her team grow.

"This is a great job for those who want to help others in a very impactful way," she said. "People are incarcerated for a number of reasons, but every one of them is going through a really difficult time when they arrive at the jail. They need compassion and care, same as anyone."
With the goal of expanding the program to further enhance inmate care, Celka and her colleagues are eager to welcome new nurses and medical assistants to their team. As they embark on this mission together, they invite compassionate and motivated healthcare professionals to join them in making a difference within the walls of the St. Louis County Jail and NERCC.
For more information about joining the corrections healthcare team, visit slhduluth.com/CorrectionsMedicine.

This article was originally featured on pages 22 & 23 in the October 2023 issue of The Woman Today magazine.