St. Luke's Ranked Nationally for Excellent Patient Care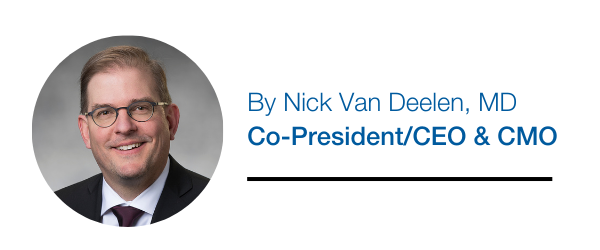 When the people of a community have access to local, high-quality healthcare, they are free to live with confidence. St. Luke's has offered this security to the people of Duluth and the entire region since 1881, and we are always striving to increase the level of quality we provide. This year, our efforts were recognized at a national level.
U.S. News & World Report has ranked St. Luke's as a high performing hospital for hip fracture, knee replacement and stroke care. We are excited to have received this recognition. But more than that, we are grateful for what it means for our patients.

These are the highest awards a hospital can earn for U.S. News' Best Hospitals Procedures & Conditions ratings. These ratings have been used for 30 years by people looking for the best health care. More than 4,500 hospitals were evaluated in the ranking process.
More than 4,500 hospitals were evaluated in the ranking process.
Many criteria were considered, including patient outcomes, patient experience and how well we help patients get back home.
This national recognition reflects the quality work that we at St. Luke's have been doing for some time. It is the result of a lot of work by a lot of people, and we are proud to offer this kind of award-winning care to the people of this region.
Our efforts begin long before the procedure is even needed.
In the areas of hip fracture and knee replacement, for example, this means identifying patients who may need surgery in the future. We identify risk factors early on, such as obesity or diabetes. We then work to mitigate these issues first. These efforts help ensure that later in-hospital care is optimized and rehabilitation occurs faster and more successfully.
Technology plays a role. New software helps us track the patient throughout the entire episode of care.
However, people are even more important. We created a nurse navigator position. This nurse serves as a primary point of contact for the patient at every step, and there's an entire multidisciplinary team supporting the patient, including primary care physicians, nurses, surgeons, pharmacists, social workers and physical therapists. All are vital to the patient's overall health and well-being.
St. Luke's is also ranked as a high performing hospital in the area of stroke care. We have the infrastructure in place to act quickly, whether the patient needs immediate medication or a procedure. We were the first hospital in the region to offer stroke thrombectomies, the most advanced stroke treatment for large-vessel ischemic stroke patients. We also offer the clot-busting drug tPA (tissue plasminogen activator). In addition, our stroke rehab program provides comprehensive rehabilitation to help patients recover from various stroke-related difficulties.
The credit goes to the nearly 3,000 people who make up the St. Luke's team.
We are gratified to see the positive results of our efforts in the health of our patients. Without a doubt, the credit goes to the nearly 3,000 people who make up the St. Luke's team. Everyone involved works together to make sure our patients receive compassionate, high-quality healthcare.
We know our patients deserve the best care in the nation and we are proud to deliver that care.
This article was originally published in the November 2022 issue of the Duluthian (page 50-51).