Empowered to Make a Difference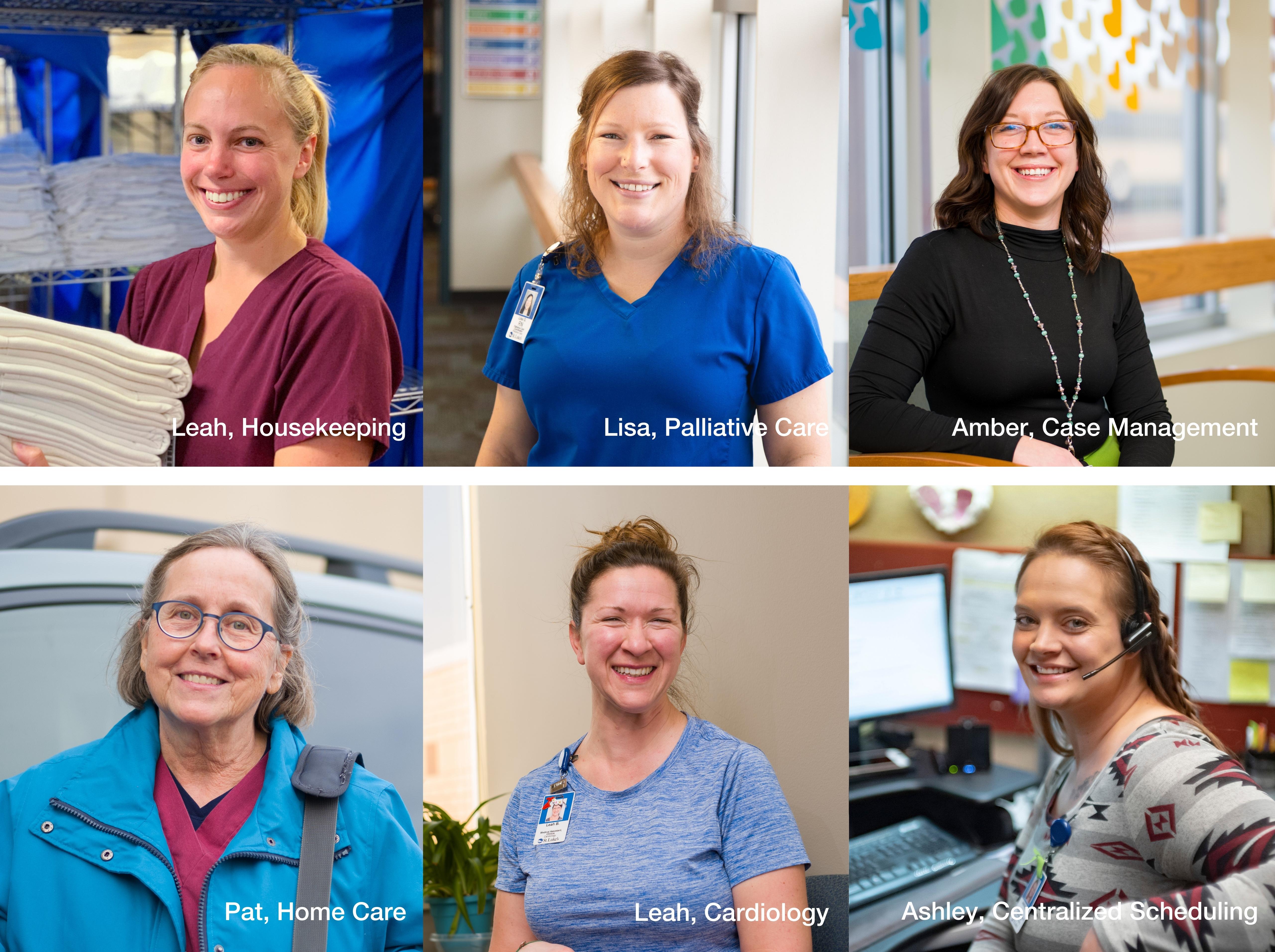 A few wonderful women who work at St. Luke's.
Health care is all about making a difference by helping other people. At St. Luke's, this is accomplished with a diverse team in a variety of roles. Here are a few stories showcasing who fills these roles and what they love most about their work.
Leah, Medical Assistant, Cardiology
"We like each other. We support one another," said Leah about her coworkers. "It puts patients at ease and makes every day enjoyable."
Leah's main roles include rooming patients, checking vitals, preparing charts, performing EKGs and scheduling follow-up appointments. But she says, by far, the best part of her job is the people she works with.
Teamwork and Quality are the St. Luke's Core Values that mean the most to her. "This is not a job anyone could do on their own. Teamwork is so important," she said, "and quality is vital. We strive to do our absolute best for our patients."
 
Ashley, Scheduling Representative, Centralized Scheduling
Ashley loves helping patients get the care they need. She has lots of stories, but one stands out as particularly rewarding.
"I had a patient call to schedule an injection for extreme back pain," she said. He was about to go on a trip. However, his pain was so bad that he was on the verge of cancelling. The kind of appointment he needed can take some time to set up, but Ashley wanted to do whatever she could to help. She was able to get him in the next day. He went on his trip pain-free.
"After he came home, he called to thank me," she said. "It's so rewarding to be able to help people."
 
Leah, Linen Porter, Housekeeping
Leah delivers linens in St. Luke's Hospital. "I love working here," she said. "What we do in our department is crucial. If there isn't clean laundry, we can't care for patients."
When Leah is out and about, she enjoys interacting with patients and visitors. "Just this week I saw a woman struggling to find her way, so I stopped to help her," said Leah. "Other times, I strike up a conversation when I'm in the elevator with people. It makes work fun."
 
Pat, Home Health Aide, Home Care and Hospice
In her role, Pat cares for some of St. Luke's most vulnerable patients in their homes. "I love being able to provide personalized care in this way," Pat said. "I aim to connect with each person. I want them to know that I care."
Pat loves the opportunity to brighten someone else's day. "Even during hard times," Pat said, "I try to leave people smiling."
 
Lisa, RN, Care Coordinator, Palliative Care
Lisa is known for her hard work, kindness and optimism. When she talks with patients, she looks for ways to bring them peace and hope.
"The emotional side of caring for someone is so important," she said. "Patients are so much more than the symptoms they're dealing with."
Lisa chose St. Luke's because of the Mission: The Patient. Above All Else. She hasn't once been disappointed. "It's so much more than a paycheck," she said. "It's about taking care of others. I love it."
 
Amber, Social Worker, Case Management
Amber connects with patients right before they are discharged from the hospital. "I really enjoy meeting them, and helping them feel supported and understood."
Discharge planning can include anything from coordinating community resources to home health care. Amber and her colleagues make sure plans are in place and troubleshoot any issues that arise.
Amber appreciates the positive atmosphere. "Even during a pandemic, I have always felt supported by my team," she said. "That makes it easier to stay patient-focused."
 
Working at St. Luke's
Each day, these women come to work and play a role in something big. By being part of a comprehensive healthcare system, they are empowered to help others and make a lasting difference in their community.
If you're interested in joining the St. Luke's team, see the wide variety of roles available at slhduluth.com/careers.
This article was published in the April 2022 issue of The Woman Today magazine.