St. Luke's and CHUM Partner to Provide Additional Housing for Duluth Seniors Who Are Homeless
St. Luke's and CHUM are partnering in a powerful way to offer additional housing for homeless seniors. This partnership was celebrated today with a ribbon cutting ceremony at the St. Francis Apartments in downtown Duluth.
CHUM had started leasing the first floor of the two-floor Duluth Inn earlier this year. The newly named St. Francis Apartments have since been providing 22 apartment units for homeless seniors in Duluth.
With today's announcement that St. Luke's has purchased the building at 131 W. 2nd Street, the number of residents will grow to be almost four times the amount who are currently living there. Instead of 11 residents, 43 will have a new place to call home.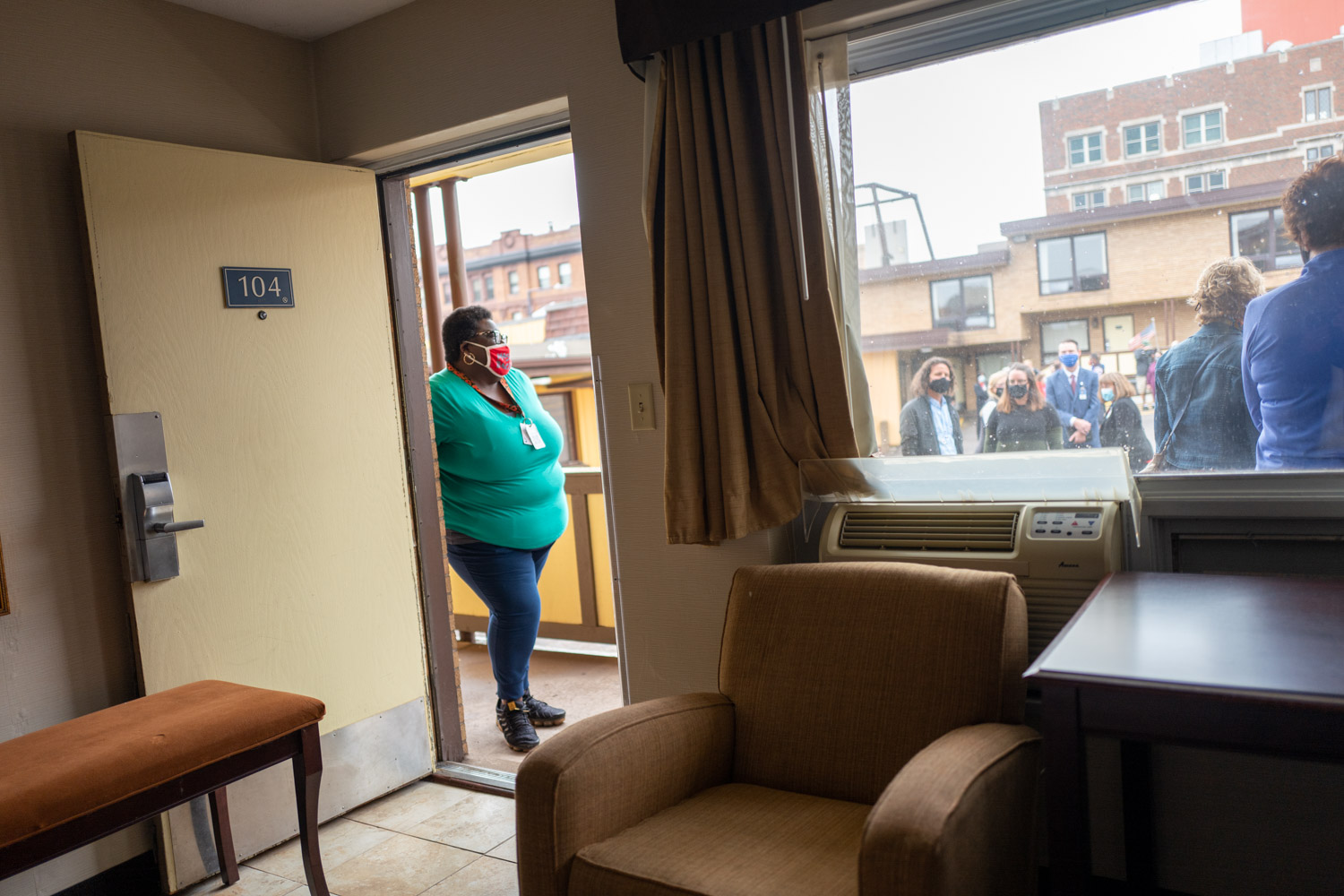 St. Luke's will own and maintain the building and CHUM will provide the programing. St. Luke's will not profit from the $2.6 million venture and all grants for the project will be used to help those 55 and older who are experiencing chronic homelessness. Special preference will be given to people who are 65 and older, are veterans, or have disabilities.
"We see this as an incredible way we can partner with CHUM, which is tremendous asset to our community, to create a safety net for the most vulnerable," said St. Luke's Board of Directors Chair Herb Minke. "We are proud to be here today and look forward to what this means for so many in our community in the future."
Nick Van Deelen, MD, St. Luke's Co-President/CEO and Chief Medical Officer added, "We know that having stable housing is foundational to good health. In addition to our healthcare experience, we have a lot of expertise with building management and maintenance. We bring this experience and additional financial resources to the project, while CHUM brings a wealth of experience in helping connect people with housing and providing supportive services. This is a great way we can work together to create a healthier Duluth."
CHUM Executive Director John Cole said the need for housing is great. "Having this resource is crucial to helping our most vulnerable adults get the resources they need. It's exciting to be able to grow and make progress on this challenging issue in our community." Eleven people currently live at St. Francis Apartments, with the goal of increasing to the full capacity of 43 residents.
This project was also made possible through the support of the City of Duluth, the Duluth Housing & Redevelopment Authority, One Roof Community Housing, St. Louis County and many others.
To learn more, visit: https://www.chumduluth.org/stfrancisapts.htm.