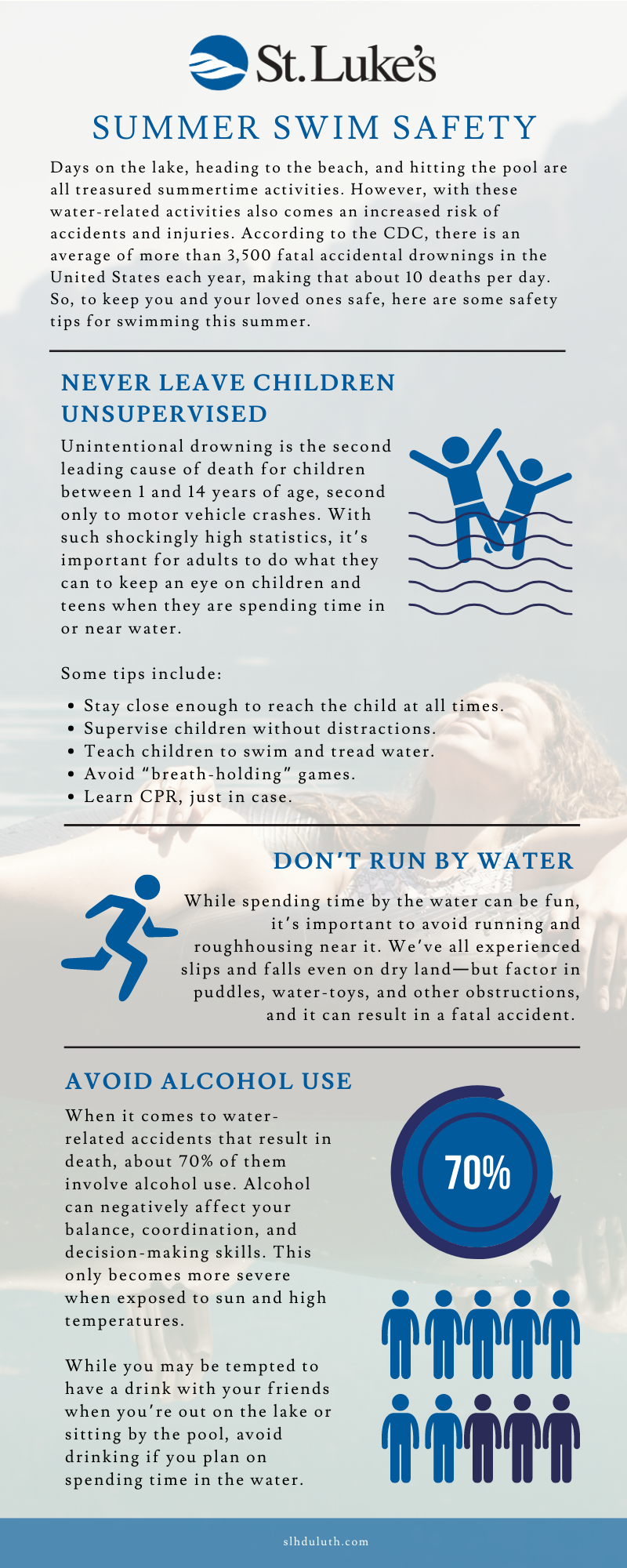 Preventing Drownings and Water-Related Injuries
Days on the lake, heading to the beach, and hitting the pool are all treasured summertime activities. However, with these water-related activities also comes an increased risk of accidents and injuries. According to the CDC, there is an average of more than 3,500 fatal accidental drownings in the United States each year, making that about 10 deaths per day. So, to keep you and your loved ones safe, here are some safety tips for swimming this summer.
Never Leave Children Unsupervised
Unintentional drowning is the second leading cause of death for children between 1 and 14 years of age, second only to motor vehicle crashes. With such shockingly high statistics, it's important for adults to do what they can to keep an eye on children and teens when they are spending time in or near water.
Some tips include:
Stay close enough to reach the child at all times.
Supervise children without distractions.
Teach children to swim and tread water.
Avoid "breath-holding" games.
Learn CPR, just in case.
Don't Run by Water
While spending time by the water can be fun, it's important to avoid running and roughhousing near it. We've all experienced slips and falls even on dry land—but factor in puddles, water-toys, and other obstructions, and it can result in a fatal accident.
Avoid Alcohol Use
When it comes to water-related accidents that result in death, about 70% of them involve alcohol use. Alcohol can negatively affect your balance, coordination, and decision-making skills. This only becomes more severe when exposed to sun and high temperatures.
While you may be tempted to have a drink with your friends when you're out on the lake or sitting by the pool, avoid drinking if you plan on spending time in the water.
Immediate Care Options at St. Luke's
If you need immediate attention and your primary care provider is unavailable, St. Luke's offers a variety of immediate care options where you can be seen without an appointment. To learn more about St. Luke's immediate care offerings, visit our website.
If you or a family member is experiencing a life-threatening injury or illness, please call 911.